building a wooden hot tub base
Building a wooden hot tub base includes ensuring stability and evenness; selecting materials for the base; ensuring air circulation.
Base preparation is something all soon-to-be hot tub owners should consider in advance. Not only does a sturdy base positively affect the longevity of the tub, but also the bathers' satisfaction. Here is a walk-through the factors which must be considered when planning a base for your hot tub:
Stability and evenness
Solid and level – those are the two most important requirements for a base. The base must be strong enough to support a full hot tub with bathers and must stand level enough for the water to be even. This does not mean that it can only be made from concrete. There are plenty of options to choose from that provide the same level of stability while looking splendid in your garden.
Materials
Some popular choices include gravel, paving units, tiles, wooden constructions (terraces). The choice really depends on the owner's preference. A nicely laid out base can improve the visual aesthetic even more. Here are some wonderful arrangements from our customers':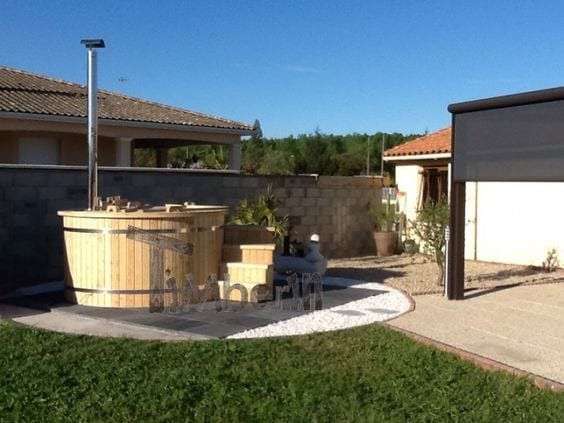 Air circulation
This is another key factor, especially when it comes to wooden hot tubs. When possible, it is best for the hot tub to be raised from the ground, so that air circulates freely under the bottom and moisture evaporates. Another thing to consider is the placement of the hot tub either in the shade or direct sunlight. When it comes to Polypropylene (PP) and Fiberglass tubs this does not make much of a difference, however, with wooden tubs this is something to consider. The shade, especially in a more humid climate, is perfect for algae and mould to form, therefore it is highly recommended to set up the base for a wooden hot tub in a sunnier spot.
Bottom insulation
If a hot tub does not have bottom insulation, yet is in a colder climate, a thicker base is something to consider. Keeping the hot tub raised higher from the ground will act as insulation. Another option is to place the hot tub on a sheet of polystyrene (when choosing this option, do not forget about ensuring proper air circulation).