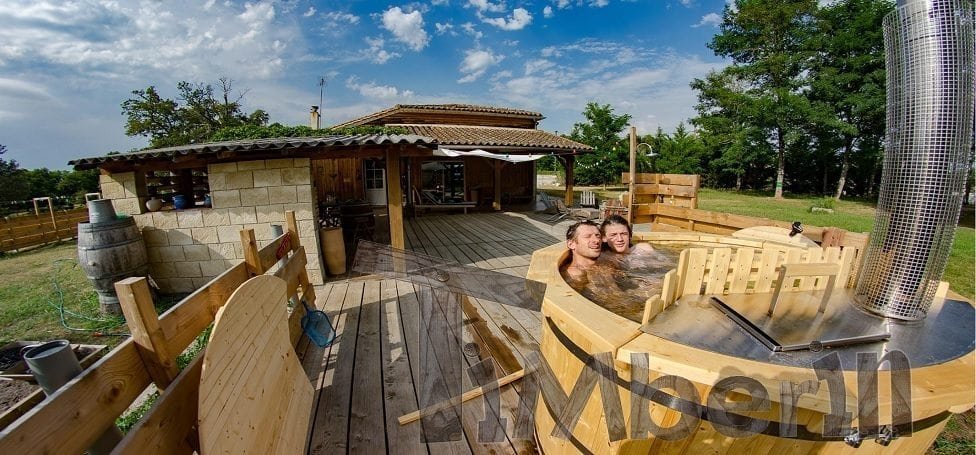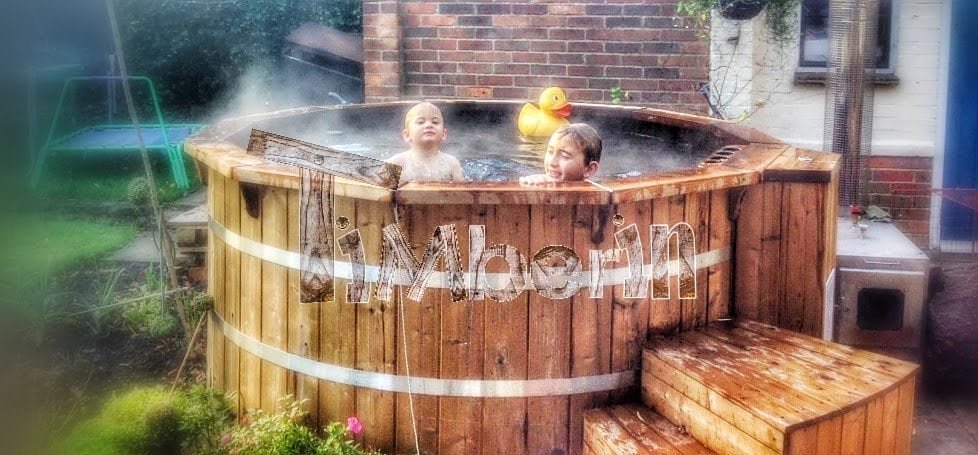 Wooden Hot Tubs for up to 12 persons!
Why should one choose wooden tub:
Completely natural experience, no artificial built-in materials used;
3 different wood types (Siberian spruce, larch and thermo wood);
Solid natural wood;
Round models in various sizes for 4-12 persons (diameter: 1600 – 2200 mm);
Water capacity 1800 – 3400 l (depends on the size);
Lower prices compared to polypropylene (PP) and fiberglass models.
What to consider firstly:
Wooden hot tubs require more maintenance;
Cleaning is more complex compared to polypropylene (PP) or fiberglass models;
Leakage for the first days of utilization may be expected due to natural properties of wood;
At least 10 cm of water must always be left in the wooden hot tub in order to avoid wood contractions;
Much heavier compared to PP or fiberglass models. Weight: 300-450 kg (depends on size and wood type);
Outdoor hot tub from thermowood, Cockermouth, Cumbria, UK
TimberIN make a wonderful hot tub! I chose the Thermawood 1800mm model and it is just what I wanted, at a really good price. We happily get 6 adults in and could get more. It looks beautiful with lovely curved steps going up to it. My guests and friends just love it, and it has been in use almost continuously since the guys delivered it and I had a chance to fill and heat it. The heating is straightforward, and I can use up all sorts of waste wood on it which I can't use in the log burners (wood with nails, soft wood logs etc). I can really recommend Timberin.

Diana Clarke – High Swinside Holiday Cottages.
wood fired hot tub thermowood
2016-05-25T09:09:27+00:00
https://www.woodenhottubsale.co.uk/testimonials/outdoor-hot-tub-from-thermowood-cockermouth-cumbria-uk/
Hot tub made of thermowood, Rowledge, UK
Here are my comments that you are free to add to your website as my testimonial:
"Throughout the entire ordering process, Albert and his team couldn't have been any more helpful with guidance, answering my many questions and keeping me updated throughout the manufacture and transport of my hot tub. When it arrived, the driver and his assistant were extremely helpful and hard-working with a "challenging" logistical problem of getting the hot tub into my garden.
Now that it is here, it is wonderful! It has been very difficult to get my wife out of the hot tub for the past week since it has arrived, and many family members have also come over to share in the fun!
If you are considering purchasing one of these products, I would highly recommend Albert and his team. The tub is of high quality and compared to others I looked at it was a very reasonable price.
Thank you TimberIN!"
wooden hot tub made of thermowood
2016-05-13T09:13:47+00:00
https://www.woodenhottubsale.co.uk/testimonials/hot-tub-made-of-thermowood-rowledge-uk/
Deluxe Design A, LE GRAND BORNAND, France
Dear Albert,

Yes we are very pleased with the hot tub, it is well made and looks lovely. We have installed it on our wooden terrace next to the ski piste. In the early evening with snow falling all around it is a truly magical experience. A hugh thank you to you and your team!

many thanks,

Phil
Sent from my iPad
2015-11-26T11:30:12+00:00
https://www.woodenhottubsale.co.uk/testimonials/deluxe-design-a-le-grand-bornand-france/
Wooden hot tub, Siberian larch, Devon, England
Dear Albert
Thank you so much sorry for the late reply. The hot tub is up and running and works perfectly heats with 2 bags of logs and we had no leaks. We have had some great times already the kids love it. I have included a couple of photos for you. Some of the screws have needed re-screwing but nothing major. we could do with a care guide to let us know how to keep it at its best long term but overall it has been fantastic. The customer service has been excellent and as it is the first time I have ever bought directly from a company abroad I was apprehensive and so every time I contacted you for an update you were prompt and reassuring I would definitely recommend you.
Best wishes.
🙂 Claire
2015-10-21T06:28:42+00:00
https://www.woodenhottubsale.co.uk/testimonials/wooden-hot-tub-siberian-larch-devon-england/
Thermo wood hot tub with outside heater, Bovingdon Herts, UK
The drivers were great. After arriving at 8am and a quick coffee we all went about working out how to get the tub into place over 100 yards through the garden. They were with me until 9.30 and ensured it was in the correct place. The tub looks good. At the weekend we set about installing the filter plus the external log burner, as well as filling up the tub with water. The log burner is a great feature, although you do have to be careful to have dry quality wood otherwise there is a lot of smoke! The kids have already enjoyed the tub, and love it. We look forward to when the thermo wood has settled and properly sealed itself in the next month. We are sure we will get years of use from the tub on starry nights in winter and summer, both relaxing with friends or having fun with the kids; the simplicity of the workmanship makes it an attractive addition to our outdoor space.

Kind regards
Lloyd
2015-10-12T08:48:18+00:00
https://www.woodenhottubsale.co.uk/testimonials/thermo-wood-hot-tub-with-outside-heater-bovingdon-herts-uk/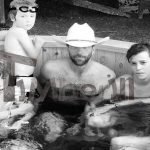 Deluxe Model, Kingston upon thames, UK
Hello Albert,

Just to say a big thank you for my hot tub. 😎 You made it so simple to purchase from you; your service and product is excellent. You and Ruta were always there to answer my calls promptly, from start to finish a perfect transaction. Thank you for your professionalism, I endorse your company and product without hesitation.

I will forward more photos in due course

Best regards
Michael
2015-08-31T12:00:58+00:00
https://www.woodenhottubsale.co.uk/testimonials/deluxe-model-kingston-upon-thames-uk/