Wooden hot tubs – Wood-fired hot tubs – Wood-burning hot tubs – it is time to relax and bring the family together! Ireland
Wooden hot tubs will get you back where everything started! Smart technology is all over our daily lives. It is quite hard to find some quality time even for your closest ones. It should not be like this and the memories that we get from these moments will stay forever. TimberIN wooden hot tubs and outdoor saunas are some of the easiest ways to harvest those precious moments. In addition, they will be a good add-up to backyard aesthetics guaranteeing a rustic feel and touch.
---
---
Attached you will find some pictures of our Hot Tub. So far we are very happy with it.

Henry louvtick


We're still very happy with the tub. It all works well. The only thing is that we're still trying to find a bit out how much chlorine we need to... read more add to the water to keep it clear, but that's all.

Mairead Rooney


We are very happy with our Timberin Hot Tub which arrived as promised in perfect condition with a helpful delivery driver and has totally met our expectations. The Rojal model... read more is a top-quality addition to our rental property and receives great comments from our guests. It is easy to light and reaches temperature within 2-3 hours. A very nice team, friendly and helpful. Perfect handling.

Mary Reid


I recently acquired a Timberin Wellness Royal and am really pleased with the quality of the product. After a few phone calls with the firm to acquire information, I decided... read more on the timberin tub after looking at a few hot tubs online. The hot tub was delivered immediately. We enjoy it and would recommend it to others.

Kostantina Ksenou


I had a lot of questions before I bought the hot tub, while I was waiting for it to arrive, and after it was installed. All of my questions were... read more answered fully and promptly... very professional... and a wonderful product! The tub is fantastic; it is all we hoped for and more. Would and have already recommended to others.

Liselotte Winter


We were looking for a stylish wood fired hot tub, that was comfortable, easy to maintain and would heat up quickly even in the cold UK winter. We chose timberin... read more 2 person wood-fired model which has the benefit of the comfort, sleek style and easy maintenance of a fibre glass insert, with the rustic appeal of a wooden hot tub with a visible fire. The stove is highly efficient and warms the water from cold to the perfect temperature within 2 to 3 hours. Nice company to work with. Everything went smooth and fast.

Jamie Oakley


Our hot tub arrived around 8 weeks ago and so far it's been great. Production was a little longer than we originally thought it would be but only by a... read more couple of weeks and that was with the pandemic going on. Communication from the company was reasonably good. They responding to most of our queries promptly. We did get cheaper prices from other companies but in the end decided that we wanted to go with the company with lots of reviews so we knew it would be legit. The hot tub itself has been great. Seems well made and exactly as we specified. We're now thinking we might upgrade to the sand filtration system but otherwise very happy with everything!

Rachel Martin


Hi Albert,
We are very pleased with our new hot tub which is now in place with its decking as you see in the picture. I do have a couple of... read more questions though – Is it possible to order a new insulated cover ? we have the very nice looking wooden lid but it is incredibly heavy and I wonder if there is a lighter alternative we could have? we are STILL waiting to get an electrician to install the electrics.
Overall we are very pleased!
Thank you

Tin Mellerick Wheeler


"Hi, thank you for the help I had during the purchase of this hot tub. I must say, it was very easy to put together, I was concerned at... read more the amount it leaked when I first assembled, but it was fine after 2 days. We have used it twice and now can finish the area I put it so it all looks good. Plenty of spare parts and the delivery guys did a very good job in getting it down my drive in kit form.

regards
Simon
"

Simon Tyler

---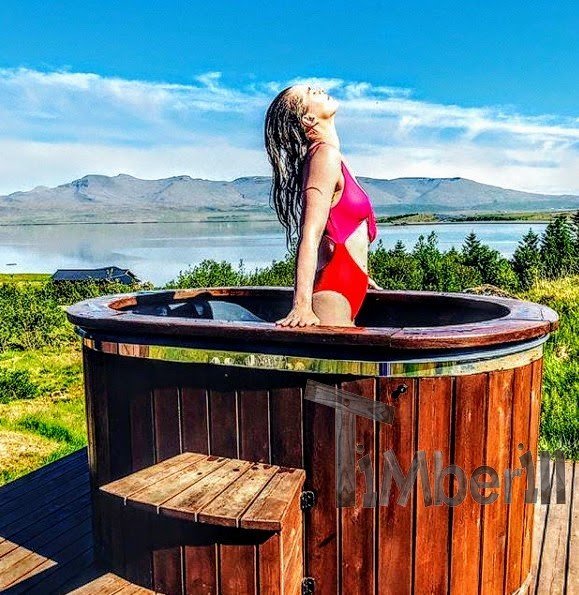 Our main aim here at TimberIN is to offer a product that would unplug you from the fast-daily pace of our lives with more smiles and joy!
Thousands of people around Europe have already been introduced to our products. It is your turn now. It will be the best investment you have ever made for your true self.
Treat yourself well with TimberIN hot tubs!
---
Sometimes all we need is the traditional way for certain things. With the increased dependence on modern age technology, we consider it the ultimate solution for every single item. However, in this life with cut-throat competition, you need to find traditional ways to get relaxed. Are you looking for something that can provide you with the ultimate relaxation and bonding time with your loved ones? Do you want to find a traditional and more aesthetic way to enjoy your spare time?
Well, then all you need is the wooden hot tub from TimberIN Hot Tubs. With years of experience and knowledge, we have crafted the premium solution for your relaxation. The hot wooden tub will not only offer comfort but also adds to the aesthetic of your backyard.
At TimberIN Hot Tubs, there is no tolerance for low-quality products. We believe in creating products that serve clients for many years to come. In the recent few decades, we have been introduced to various forms of furniture, including plastic, flat-pack, and comfortable furniture. Although these products market the convenience, they are not reliable at all. Especially if you are thinking about having a hot tub in harsh and extreme weather conditions, plastic is not going to be a prudent solution.
On the contrary, how about trying the wood-heated wooden tub, designed to last? At TimberIN Hot Tubs, we offer our valuable clients excellent quality products made with the most excellent quality material by experts. So by buying the wooden hot tub from TimberIN Hot Tubs, you are not investing in the relaxation but also in the quality and the time.
Hot wooden tub from TimberIN Hot Tubs is not just the way to get relaxed alone or with family, but it also gives your backyard a unique traditional look. Having a hot tub of your own in your backyard offers you more personalization and privacy. Tired from work and need to relax a bit in the hot water tub? Or want to enjoy some quality time with the love of your life? In either case, all you need is a hot water tub in your backyard with some drinks and light music. Make your evenings more enjoyable and relaxing with the warm water, sweet music, and soothing sound of a crackling wood fire.
Why do you have to arrange a big fat pool when you can have a highly reliable and convenient hot wooden tub?
At TimberIN Hot Tubs, we believe in ultimate customer satisfaction and try to deliver our valued clients the products they demand. We have an open heart and highly skilled staff to accommodate all your customized requests. Isn't it amazing to have a hot wood tub just as you like it?
At TimberIN Hot Tubs, it is possible as we try to take your perspective and vision into building the masterpiece. So come to us with whatever ideas for a wood tub you have in your mind, and we will craft a product accordingly. At TimberIN Hot Tubs there is no place for mass production or standard cut products. We understand that every customer or household requirement is different and thus demands a different type of hot wooden tub.
TimberIN Hot Tubs is all about dedication, quality, perfection, and excellence. With our staff of highly trained and experienced people, we can make it possible for you to have the hot wooden tub of your dreams. We offer you the ultimate convenience to design a wooden tub according to your space and requirement. So how about contacting us today with your dream hot wooden tub to get the one in reality?
Our specialization doesn't just end at wooden hot tubs, but we also excel in making wood-fired saunas, camping pods, and various other amazing products. If you are looking for something other than a wooden hot tub or a sauna, then we suggest you discuss your ideas with us once. We ensure you get the best quality product with top-notch craftsmanship and guarantee. At TimberIN Hot Tubs, our sole purpose is to ease your relaxation time and let you unwind and enjoy with the ones you love the most. We believe that with your loved ones around you, you can make many memories to be cherished for a lifetime just like our products. So why not discover how you can make the best out of your spare time by ordering the right relaxing tools from TimberIN Hot Tubs.
What is a wooden or a wood burning hot tub? Get to know them!
To start, one should always think of a wood type. Wood-fired hot tubs can be produced from Siberian spruce, larch, thermowood, oak, or red cedar. Thermowood`s origin is spruce processed at high temperatures. As a result, it enables to withstand harsh climate conditions and minimize the humidity-caused deformations. Wooden hot tubs can come with a liner that sits inside the tub. They can be made of polypropylene or fiberglass. Polypropylene liners are available in blue, grey, white, or black. Fiberglass liners are available in any of your desired colors from RAL (ralcolor.com). Fiberglass liners are usually limited in diameter since they are made out of preowned forms. Polypropylene is usually welded, therefore, there is practically no limitation in terms of sizes and forms. There are many choices when it comes to selecting the heater. The most popular selection is the snorkel (internal) stainless steel heater. Also, there is a wide selection of external wood-fired or electric heaters for hot tubs. The difference is that the external heaters don't take space inside and, therefore, more persons can enjoy the wood-fired hot tub at the same time. We do offer heaters prepared in 430 or 316 stainless steel. 316 stainless steel is necessary if chlorine, water salts or any other water treatment solutions are used. Last but not least is an electric heater. It is quite a comfortable solution where wood usage is not the case. Also, one can combine and install both wood-fired and electric heaters. Wood-fired hot tubs can be equipped with 4 types of stairs. They differ in size and design. To see the designs we offer, please select the particular model of wood-fired hot tubs and click the 3D section next to the description. Wood-fired hot tubs can be equipped with wooden, polypropylene or fiberglass, or leather lids. The nature of the lid depends on the type of wood-fired hot tub. We offer 3 different types of benches, however, it very much depends on the model of the wood-fired hot tub. While the wooden hot tubs will have only wooden benches, wood-fired hot tubs with polypropylene liner can be built with wooden and polypropylene benches. Since polypropylene is an artificial material, it would last definitely longer.
Wooden hot tubs with jets and more!
Led lights can make the experience of bathing even better. We can install as many as you like but the most popular option is 3-4 units. The led bulb has 5 different colors which can be changed with the help of a remote controller fitted to the tub`s wall. Walls of wooden hot tubs must be insulated. This massage system comes with 6 jets which are already pre-installed into the walls of the wooden hot tubs with fiberglass liners. Wooden hot tubs with massage systems must be insulated. The Air massage system comes with 12 jets. It can be used together with a hydro massage system or separately. The main difference between these two massage systems is that the hydro massage is much stronger and the water current is stimulating the body. The air bubble system, on the other hand, makes you feel more relaxed and tension-free. Air bubble jets are installed into the bottom of the wooden hot tubs. In terms of water maintenance, there are no many options to choose from. Either one uses water treatment chemicals or filtration systems. We do recommend filtration systems since chemicals can harm the body and various parts of the wooden hot tubs. A full filtration set combines a sand filter system that cleans the organic particles and a UV filter that kills the bacteria by illuminating the water with UV rays. When it comes to energy saving, the insulation option is a must. Wall, bottom, and lid insulation are necessary for wooden hot tubs. The energy-saving is tremendous, the water temperature drop during the cold night is only 2-3 degrees. Only 2-3 bags of wood are enough to fully heat the tub. Lastly, water fill and drain should be foreseen. Stainless steel tap with a valve which enables to drain dirty water more easily. Every model of wood-fired hot tubs comes with a loose hose connector (a plug with the stopper) which is installed at the bottom.
Pellet-burning option introduced in 2019 Innovation by TimberIN
Although it's improbable that numerous individuals would consider wooden hot tubs as being "green" items, a portion of the things are unquestionably eco-friendlier than others. Such is the situation with our smart pellet-fired hot tub, which is now being offered in Europe.
Developed at the Lithuania's Kaunas University of Technology, the wooden hot tub warms the water by consuming wood pellets, rather than the more regularly utilized split logs. It is being said that these pellets are more affordably available, yet they likewise produce higher temperatures in less time, in addition, they emanate less smoke, debris, and carbon. Also, the pellets are said to be simpler to deal with than logs. The tub's inside stockpiling compartment can hold enough of them for a few hot-tubbing sessions.
Using an iOS/Android cell phone application, clients start by setting the water temperature that they want. The wooden hot tub reacts by moving a fitting measure of pellets from the capacity compartment into its ignition chamber. As a result, clients don't need to reach in and hazard by taking care of any blazing particles themselves.
As the pellets are consumed, sensors measure the water temperature at both the top and base of the wooden hot tub. When the required temperature reaches the set level, the application notifies the user. If the temperature in the wooden hot tub drops by 5 or 8 degrees (the client can change this temperature dropping level), the heater would turn on again. Pellets would keep on being step by step moved into the burning chamber, so as to keep up the temperature.
The pellet-burning wooden hot tubs have been available for a quarter of a year and are at present accessible in Germany, Denmark, France, Norway, England, and Ireland. Its warming framework is currently being changed for use in outside saunas.
---
Wood-fired hot tubs for an absolute relaxation
Are you looking for a relaxation and wellness option for your garden? Then a wood-fired hot tub or a wood-burning hot tub is just the right thing for you! Wood-burning hot tubs are made of high-quality wood – mostly made of Nordic spruce, larch, or thermowood. An all-around enriching and completely healthy wellness experience. Our offer is aimed at people from the UK or Scotland but is suitable for everyone – from young to old.
It should be noted that there are different terms such as wood-fired hot tubs; wood-burning hot tubs or simply put wooden hot tubs. We would like to introduce you to these so that you can find the best product for you and your individual needs when making your purchase. Every single product is of high quality. The wood is perfectly processed and suitable for long-term use.
Why you should have one?
With a hot tub, you have the above-mentioned wellness and relaxation options also in addition to many more benefits. In the longer term, you save a lot of money for visits to expensive wellness centers. With the wooden hot tub, you can bring wellness to your home and use it whenever you want. The hot tub is set up outdoors – ideally on a meadow with flat terrain. You can choose from different shapes and sizes. Choose from different models and finishes including accessories for all variations.
There are natural wooden hot tubs and those that are lined with fiberglass. There is a clear difference in price between wood and fiberglass, whereas those made of fiberglass are a little more expensive – but last longer.
Other accessories and features
The wood-burning hot tubs come with completely insulated walls, floor, and lid – if desired, thus providing complete insulation and protection against heat loss. The cleaning and maintenance of a hot tub are very easy and inexpensive, with simple cleaning agents.
In addition, you can install a complete SPA system. This SPA system includes a bubble massage system and a water massage system. In addition, you have beautiful LED lights, which are particularly durable and straightforward.
Walls and benches are customizable on all plastic models and individually configurable. Even with the color selection, you have an extensive color palette available. In addition, you have a low water capacity of 1400-16000 liters and the fiberglass benches contribute to water reduction.
Also in terms of weight, you have a real top product! Compared to wooden hot tubs, the hot tubs with a liner are unbeatable. Basic weight: 160-180 kg.
The hot tubs are designed for long life and do not need to be constantly replaced. With the purchase of a hot tub, a year-long pleasure is guaranteed!
The special features of a natural wooden hot tub
The wooden hot tub is 100% natural. So you are closer to nature. This version is a little more economical and flexible. In addition, it may be under circumstances that a timber design fits better into the environment. Whether a wooden hot tub or a wood-fired hot tub with a liner, with this product you have a wellness package, where you can recover from stressful everyday life. Colloquially, bathing tubs are also called Whirlpools- after all, these are exactly the same as an outdoor hot tub or jacuzzi.
What is a wood burning hot tub?
A wood-burning hot tub is the latest trend from Scandinavia and the Baltic area and is also very popular in Germany, Austria, and Switzerland. But what exactly is a hot tub and what sets it apart from a classic wooden hot tub? The wooden hot tub was a tradition in Scandinavia and the northern countries over several thousand years. This wooden tub filled with hot water has only recently become an absolute trend in Central Europe. In addition, it is ideal for a social evening useful, as several people (depending on the version up to 8). The water in the wooden tub is heated by a special stove and brought to the right temperature.
How do you heat a wooden hot tub?
In order to bring the water to the right temperature, a small wood stove or an electric heater is required, which is included in the delivery. The wood-burning stove of the wellness royal model is thereby completely integrated into the tub. This is designed so that most of the heat from the fire is channeled into the water and almost no heat energy is lost. It is enormously important that you only heat when there is water in the barrel, otherwise heating with no water could melt the liner or even catch fire.
So if you have filled the water in the wooden hot tub to the point marked, you can easily heat up the stove. The stove only gets as hot as the water itself. The only thing that gets hotter is the oven door and the fireplace of the stove. You should therefore not touch this. Drywood is ideal for heating. Hardwood has an ideal calorific value for the stove of your wood-burning hot tub.
In addition, there are oils and solutions that you can put into the water, this helps with the relaxation and can also be healing as well as cleansing for your skin and your body. Of course, there are different variations for every wellness fan – depending on your own preferences, you can order various accessories from us in the shop and set up your bath individually. For ultimate relaxation right in your own garden or on the terrace.
Wood fired hot tubs are a less expensive way to enjoy hot springs in the garden. They have a long tradition in Scandinavia. We will discuss the different types of hot tubs and how to heat the water in them.
Wood burning hot tubs have a millennia-old tradition in the Scandinavian countries. These wood fired hot tubs made of solid wood that are filled with water and heated by a wood stove. The stove can be installed inside or outside, or sometimes integrated into the structure of the hot tub. Alternatively, there are also hot tubs with an electric heater, so-called – electric hot tubs.
There is space for two to eight people in a conventional hot tub. It is normally is accessible via a ladder.
Compared to an outdoor whirlpool or jacuzzi, you can expect less comfort and design with a wood fired hot tub. Those who like it rustic will clearly prefer the hot tub. Another advantage: wood burning hot tubs are usually cheaper to buy and more environmentally friendly.
What is there to know before buying a wood fired hot tub
What makes a good hot tub?
When choosing a hot tub, you should pay attention to several factors:
• Size: Relaxation. The hot tub should therefore be spacious enough so that all guests can comfortably find space in it. At the same time, the tub should not be unnecessarily large, since it uses a lot of water that needs to be heated. So think in advance how many people will use the hot tub regularly.
• Material: Do not save on material. A good hot tub is traditionally made of solid wood, usually spruce, larch or thermowood. There are also models made of plastic, but they have nothing to do with the original hot tub. The straps around the bin are made of durable stainless steel.
• Equipment: A ladder, bench and wooden lid should be included in the scope of delivery or can be combined directly in the shop. Only these accessories make the hot tub complete. The lid in particular is a must so that the hot tub heats up faster and the heat is stored longer.
Wood fired hot tubs: what types are there?
According to tradition, wood burning hot tubs are made from solid wood staves. These are held together by stainless steel straps.
One usually has the choice between spruce, larch and thermo wood. Spruce and larch wood are the cheaper variants, but they also require more maintenance. The wood should be treated with glaze several times a year.
Hot tub stove: inside or outside?
Hot tubs are traditionally heated using a wood stove. There are two types of construction: the inner wood stove and the outer wood stove. In both cases you add the firewood from the outside. The smoke goes up a long chimney.
Hot tub with inside – snorkel stove
The snorkel stove is usually made of stainless steel and is mounted inside the hot tub. This has the advantage that the heat is transferred directly to the water. Disadvantage: one can lose valuable space in the hot tub. You can only start and use the inside stove while there is water in the hot tub. Otherwise, your hot tub threatens to go up in flames.
Hot tub with outside stove
The outdoor stove is outside of the tub. It consists of two contours and in the middle, the water flows past and is heated. This design is less efficient than the inside stove and takes longer to heat up. You also need more space next to the tub. An outdoor stove has the advantage that you have the entire tub's interior to sit in.
Alternatively: Electrically heated hot tub – electric hot tub
In addition to the classic design with a wood stove, there are also hot tubs that can be operated electrically. The heating time is normally longer but the heat can be regulated more easily. On the other hand, there is of course the high-power consumption, which can cost a lot of money.
Wood fired hot tubs: planning and installation
Before you can start using your hot tub, there are a few more things to consider:
• Location: It is important to have a level, solid surface so that the hot tub is stable. Water should also drain quickly, and the air should be able to circulate well under it. The lawn is less suitable. Gravel or crushed stone are best suited as a foundation.
• First use: Freshly delivered, the wood of the hot tub is still dry. It must first swell before you can fully enjoy it. Fill it about 10 centimeters with water and let the tub stand overnight. Work your way up to piece by piece until the entire hot tub is filled. As soon as the staves can absorb the moisture well enough, the tub is ready to enjoy.
• Heating: Dry hardwoods are suitable as firewood. Softwoods have the disadvantage that they develop resin, which can produce more soot. Do not put chipboard, paper or waste in the oven. It takes an average of two to three hours to heat up. When using the inside stoves, make sure that the tub is filled with water.
• Maintenance and care: Change the water only when necessary. Usually it is enough every few months, provided you always cover the barrel and using water treatment solutions. The installation of a filter system is recommended, especially if several people use the hot tub regularly. The filters help to minimize the number of chemicals required but they do not replace them. Simply clean the hot tub with curd soap after changing the water.
Finnish hot tub
Finnish hot tubs are usually practical and simple. Dive in, heat up, or refresh – that's all you need to relax in the far north. The price for a hot tub in fin design is also better.
You can get a barrel with a diameter of 180 centimeters made of Finnish thermo wood for just under 1,500 euros.
Swedish hot tub
The Swedes are more luxurious than the Finns, at least when it comes to the world of hot tubs. Based on the age-old tradition, modern Swedish hot tubs combine rustic elements with ergonomic seats and heat-treated thermowood.
---
What are the advantages of a wooden hot tub?
Wellness and relaxation: A wooden hot tub, like an outdoor whirlpool, is suitable for those who value wellness. After work, you can let go of stress, calm down, relax and recharge yourself.
Usable all year round: It can be used practically all year round. In summer it is filled with cold water and offers a welcome cooling off from the heat. In winter, full of hot water, you can relax in it wonderfully and maybe even invite friends to a wellness day.
Wood flair: In addition, hot tubs are traditionally made of wood and make a very aesthetic and valuable impression in the garden.
Space-saving: You only need relatively little space and little water compared to a pool. A wooden hot tub can also be set up in a small garden, possibly even on a terrace.
Low costs and little maintenance: it requires little maintenance and care. Both the acquisition costs and the maintenance are cheaper than a classic outdoor whirlpool, which costs around 4,000-5,000 euros. Good hot tubs are available for 1,500 euros (with a diameter of 2 m). The water in a classic hot tub is heated with a stove, not with electricity. This saves costs and is environmentally friendly since renewable raw materials (firewood) are used.
Increases the value of the property: In addition, a wood-fired hot tub is a good investment that increases the value of the house or property.
What are the disadvantages of a wood fired hot tub?
No water massage jets: The water in a wood-fired hot tub is as hot as in an outdoor whirlpool, but it doesn't bubble because no air is drawn into it. There are also no massage jets here that can relieve shoulder, neck, and back tension. However, there is a bubble system available as an accessory for certain models. A special pump blows air jets into the water through special valves, creating a pleasant massage effect. However, this is not as strong as with real massage jets with water jets.
Not for swimming: In contrast to a pool, a wood-fired hot tub is not suitable for swimming.
Can only be used after it has swelled up: In addition, a wood-fired hot tub cannot be used immediately. New tubs have to swell first. It also takes a certain amount of time to heat the water.
Tips and advice for wood fired hot tubs
Does a wood burning hot tub need a foundation?
No, it is not necessary. Of course, you can use a concrete surface as a parking space, but a flat surface is usually sufficient. Only 2 things are important: The base must be firm enough to support the weight of the hot tub so that it does not tip over. Second, the water must be able to run off well because the wood can rot quickly due to the accumulated moisture. Therefore, the hot tub should stand on a layer of gravel or crushed stone. It must be ensured that the air can circulate under the hot tub, approx. 5 cm above the ground.
What is there to know before using a wood fired hot tub?
The hot tub cannot be used immediately. A little water always runs out at the beginning. This is because the wood is still dry. The barrel is first filled with water approx. 10 cm and left to stand overnight. The boards on the floor absorb the moisture and expand. Then you can slowly drain the water in 10 cm steps. The staves absorb water and this closes gaps and crevices and the hot tub becomes tight.
How is the stove used and how long does it take to heat up?
The stove is fired with wood. Dry logs that have been split into small pieces should be used. The inner stove may only be used if the surface of the stove is covered with water at least 3 cm, otherwise, the hot tub can be damaged. A standard hot tub normally takes 2-3 hours to heat up. Depending on the size, outside temperature, and installation location, heating to the optimum temperature (35 ° C – 38 ° C) takes different lengths of time: between 1.5 and 4 hours. The 4 hours mainly relate to winter. The heating time can be shortened by stirring the water with a paddle twice an hour while it is heating up. The hot tub may only be emptied when the oven has cooled down completely. The ashes must be removed at regular intervals. A shovel with a long handle is best for this.
Which firewood is best for heating the water?
In principle, you can use all types of wood, but hardwoods such as birch or beech are particularly suitable. They have a particularly high calorific value, burn for a long time, and leave little residue behind. Softwood such as spruce or pine, on the other hand, has a lot of resin. This creates large amounts of soot and ash. Incidentally, it is forbidden to burn remnants of euro pallets, chipboard, or rubbish in the oven. Not only does this damage the environment, but it also produces toxic gases.
Does the water need disinfectant?
No, it is not mandatory. If the hot tub is used often and by several people, a filter system (cartridge filter or sand filter) is recommended as an accessory. If one wants to keep water inside the hot tub longer, water treatment chemicals might be needed.
If you want to clean the water with disinfectants, you should make sure that the pH value of the bathing water is in the optimal range (between 7.2 and 7.6) so that the cleaning agents can work. In addition, the correct PH value is also important for the lifespan of the hot tub. When using chlorine, one should use small chlorine tablets with a maximum weight of 15 to 20 mg. If an oxygen granulate is added to the water, it combats the formation of algae and fungi and keeps the water cleaner for longer.
What maintenance and care does a wood fired hot tub need?
The water is only changed when necessary. To drain the water, a drain tap is attached to the underside of the hot tub, similar to a sink. An external water drainage pipe is also available for installation. If the water does not contain any chemicals, it can be used as irrigation water in the garden. When the barrel is empty, the inside can be scrubbed with mild detergents such as curd soap. Under no circumstances should aggressive chemicals be used. It may also be possible to clean it thoroughly with a high-pressure syringe. Such devices also work well outside. The wood-burning hot tub made entirely of wood must not be completely empty for a very long time. When the wood dries out, it shrinks. This creates gaps and crevices and the barrel leaks. Exceptions are the winter times with very low temperatures.
What should you watch out for when using it in winter?
When using the wood fired hot tub in winter, you should prevent the water from freezing over at very low temperatures. This means that the water must not be left unmonitored or unheated. One can e.g. put a few styrofoam units in the water. When the water freezes, it expands and compresses the styrofoam instead of damaging the wall of the hot tub. Or you can use a heating cable to counteract the drop in temperature and thus prevent the formation of ice.
How do you get the wood fired hot tub through the winter?
According to experts, in periods with very low temperatures below freezing point or if the hot tub is not used for a long time in winter, the water should be drained first, then the hot tub washed and dried. The barrel is covered with the wooden lid and stored that way. The ball valve should be left open to avoid damage from freezing. The sand filter system, if used, should be removed. If the hot tub has an external stove, it is either removed or the water must be completely drained it.
---
We deliver wood burning hot tubs from Lithuania to:
Great Britain territory including Greenock, Sunderland, Southampton, Bristol, Bournemouth, Omagh, Chester, Swansea, Carlisle, Southend, Reading, Leicester, Bradford, Sheffield, Fort William, Ayr, Aberdeen, Perth, Dundee, Middlesbrough, Coventry, Bath, Exeter, Cambridge, Kingston upon Hull, Londonderry, Lisburn, Penzance, York, Blackpool, Dumfries, Scarborough, Plymouth, Ipswich, Norwich, Brighton, Kirkwall, Inverness, Oxford, Luton, Portsmouth, Peterborough, Nottingham, Stoke, Dover, Edinburgh, Newcastle, Liverpool, Cardiff, Wick, Leeds, Lerwick, Manchester, Birmingham, Belfast, Glasgow, London, Ros Comain, Muineachan, Shannon, Waterford, Tralee, Donegal, Drogheda, Dundalk, Galway, Kilkenny, Killarney, Sligo, Cork, Limerick, Dublin, Douglas,
Throughout Europe: Austria, Switzerland, Belgium, France, Denmark, the Czech Republic, Poland, Liechtenstein, Luxembourg, Italy, Spain, Ireland, Great Britain, Hungary, Slovenia, Slovakia, Romania, Latvia, Estonia, Norway….
Cons
Requires minimum maintenance