If you are still doubting about purchasing an outdoor sauna, and are afraid of the maintenance, this short post will help you to decide and show how easy it may be. Proper maintenance of the sauna will keep the environment clean, prevent bacteria from growing, and give a great experience every time it is used.
Before starting using the wooden garden sauna you should decide whether you are keeping your sauna natural, or you are willing to use preservatives inside the sauna. You may also use it only for specific parts, like benches, floor or for the whole surface inside.
Wooden sauna wood oils are now just coming into the marketplace and it will take some time to dispel the myth that all saunas must be left natural. Sauna wood oil will keep the natural wood color, reduce moisture absorption of wood and protect it from dirt. We highly recommend Harvia sauna care set which is particularly suitable for heat-treated wood and alder panels. This special oil is clean, colorless and non-toxic for wooden surfaces. Please note that without using the oil first, cleaners may bleach and stain the wood. Never use harsh or low-quality chemicals to clean the inside of the sauna. Some preservatives may cause unpleasant odours or eye irritation. Make sure that the cleaner is suitable for wooden surfaces in humid rooms and follow the instructions and never clean a sauna while it's still hot, let it cool.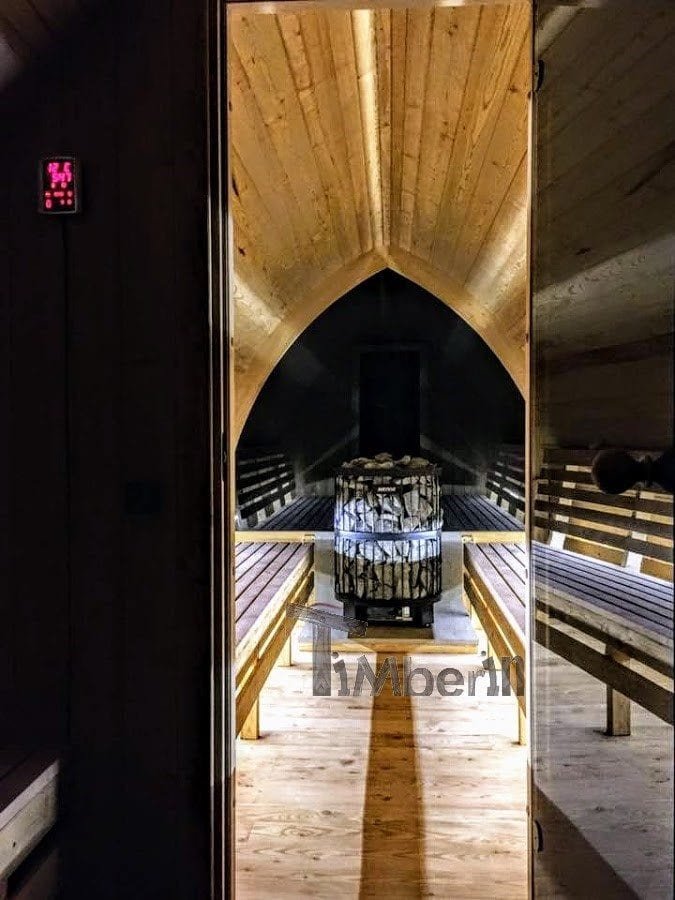 If you keep the sauna untreated, have in mind that because of the natural processes the wood tends to change its color and turn grey. Some dirt and stains may also appear on the benches, but of course, it depends on how often you use and clean the sauna. Sauna should be cleaned with water after every usage, just dip the brush in the water bucket, and do a quick scrubbing on the benches, walls, backrests, etc. This short ritual will keep your sauna looking great. Leave the sauna door open so that it can be aired out completely. If you get some dirt or sweat stains developing again use a hand brush with warm water and a mild detergent in it. To get the benches looking like new, you can lightly sand your benches about once per year. No matter what, though, do not use bleach. This can actually dry out the wood and cause splintering over time – something you definitely want to avoid.
Over time the wood is affected due to sunlight, precipitation, and other weather conditions, therefore the outside of the sauna should be oiled at least twice a year in order to keep its color and look. Linseed oil is one of our recommendations for the exterior parts as it is natural, forms a weatherproof layer, thickens the wood and brings out its texture. We strongly recommend treating the door and windows with a wood impregnation agent, both the inside and outside, in order to protect them from twisting.
Other recommendations:
Wash your feet before entering the sauna. As your sauna routine may include jumping into the lake and going back and forth many times, make sure you do not bring unnecessary debris. Under normal conditions, a slight wash of the floor several times a year will keep them clean. One of the easiest ways to minimize discoloration and staining from accumulated perspiration and body oils is to use towels over benches and backrests.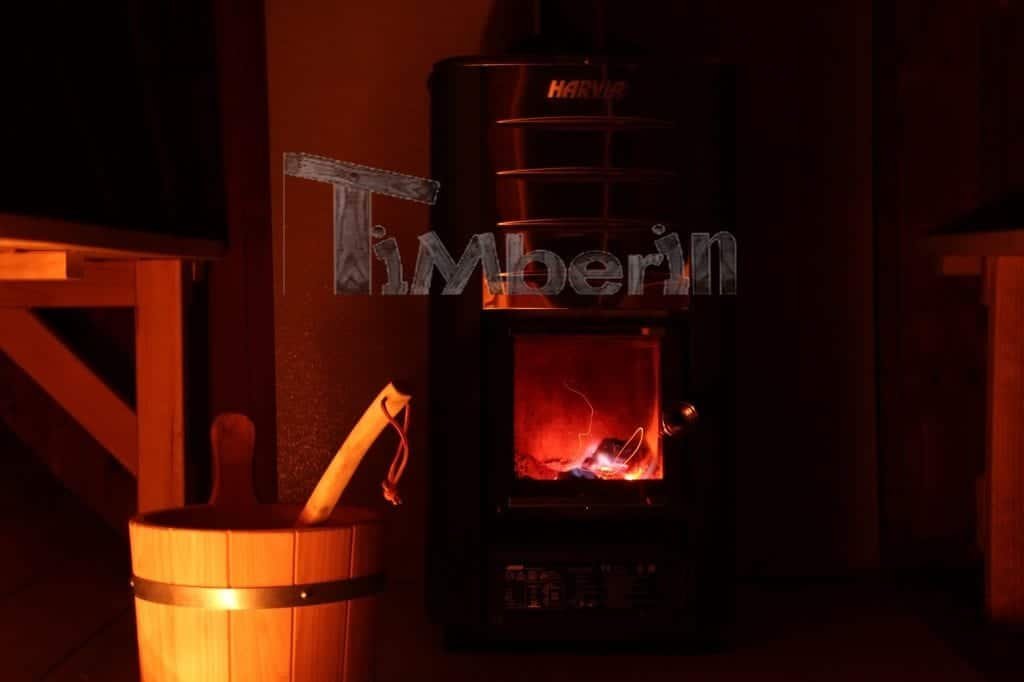 Empty wooden buckets and place them upside down to dry, preferably outside the sauna or on top of the stool. Avoid leaving metal buckets on the top bench as they can get hot to the touch nearer the ceiling.
Proper maintenance of the outdoor sauna will simply extend its lifetime. If you have any suggestions or comments, do not hesitate to contact us or comment below.
---