Home Page › Wood-fired hot tub water heaters – wood burning hot tub stoves – electric heaters for wooden hot tubs for sale
Wood-fired hot tub water heaters – Wood burning hot tub stoves – Electric heaters for wooden hot tubs for sale
---
Wood-fired hot tub heaters perfectly fit every wood-burning hot tub model. However, there are many choices possible. Snorkel or submersible hot tub heaters are easy to install and it is a common model. On the other hand, external hot tub heaters are mounted separately, therefore, a lot of space is saved. All types of heaters are sold with full connections, pipes and rain hats. We offer 6 different wood-fired hot tub stoves and the electric heater as well. Each wood fired heater has 3 power levels to choose from.
---
---
---
Snorkel, Submersible or external wood-burning hot tub heaters?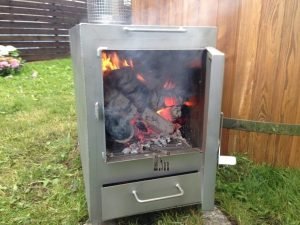 Wood-fired heaters are specially produced for wooden hot tubs. The main advantage of having an external heater is that it provides more space in the tub while having an internal model, one can put fuel without getting outside the hot tub. 2 mm stainless steel is used to produce the stoves. It must be noted that if there is a possibility of water getting frozen, it should be drained from the oven. The heat which comes from the fire is transferred to water thought complex oven`s double surface.
how does a wood fired hot tub heater work
Due to gravity, pre-heated water goes up and pressure pushes hot water to the wooden hot tub from the heater. Water circulates itself without any electric pump. However, if necessary, a water pump might be connected.
---
Installation of wood hot tub heaters
Wood-fired heater, differently than the heater for the outside sauna, is connected to the hot tub using connection pipes which come with the delivery package. This package combines metal pipes and flexible rubber hoses with presses on it for a safe connection. 2 m length chimney and rain hat is also in the package.
Connecting the heater to the outdoor hot tub
The oven should be standing on the horizontal surface;
It should be standing ~15 cm lower than the hot tub in order to maintain the inclination of the upper hose. This is necessary in order to provide full circulation process;
The opening of Ø50 mm should be made for installing an upper hose. The upswing from the bottom should be around 190 mm;
The same opening should be made on the opposite side of the hot tub for lower hose;
The upper and lower pipes should be connected with an oven.
In winter all water should be drained after using a hot tub. This should be done due to frost possibility. Water can get frozen and ice expands its volume, therefore, damaging the interior of the oven. Attention: if sea or chlorine water is used, it becomes necessary to rinse the oven with fresh water.
---
Different stainless steel grade used for log fired stove production
Grade 430. This type of stainless is a common choice. However, we do recommend upgrading the metal to 316 stainless steel since no chlorine, salts or other water treating solutions can be used, as in long-term it will damage the metal.
Grade 316. Stainless steel is also non-magnetic. This stainless steel has the best corrosion-resistant properties. We highly recommend this grade since in a long-term you will forget the rust problems.
---
Electric heaters for wooden hot tubs
Together with wood-fired stoves, we offer electric heaters. We have a wide selection in terms of power and use. One can choose from 3 kW to 18 kW. The most popular choice is 6 kW heater which heats the hot tub in approximately 3 hours if the tub is completely insulated. In terms of connectivity, we do offer 220V or 380 V, single-phase or 3 phases versions. When selecting an electric heater for hot tubs, please verify your house`s electricity allowance to make sure you are not getting overpowered. Electric heaters come together with water circulation pump which is needed to run the water through the system.
Wood Fired Heater for Hot Tubs
780
Beautiful different designs
10.0/10
Decent power of each model
9.9/10
Wood burning or electric models
9.9/10