Wood fired hot tubs – Wood burning hot tubs – it is time to relax and bring the family together!
---
---
---
Wood burning hot tubs – traditional luxury for everyone!
Smart technology is all over in our daily lives. It is quite hard to find some quality time even for your closest ones. It should not be like this and the memories that we get from these moments will stay forever. TimberIN wood fired hot tubs and outdoor saunas are one of the easiest ways to harvest those precious moments. In addition, they will be a good add-up to backyard aesthetics guaranteeing a rustic feel and touch.
Our main aim here at TimberIN is to offer wood burning hot tubs that would unplug you from the fast-daily pace of our lives with more smiles and joy! Thousands of people around Europe have already been introduced to our products. It is your turn now. It will be the best investment you have ever made for your true self.  
Sometimes all we need is the traditional way for certain things. With the increased dependence on modern age technology, we consider it the ultimate solution for every single item. However, in this life with cut-throat competition, you need to find traditional ways to get relaxed. Are you looking for something that can provide you with the ultimate relaxation and bonding time with your loved ones? Do you want to find the traditional and more aesthetic way to enjoy your spare time?
Well, then all you need is the wood fired hot tubs from TimberIN. With years of experience and knowledge, we have crafted the premium solution for your relaxation. The wood fired hot tubs will not only offer comfort, but also will offer to the aesthetic of your backyard.
You can also check:
---
Treat yourself with TimberIN wood fired hot tubs
At TimberIN wood fired hot tubs, there is no tolerance for low-quality products. We believe in creating products that serve the clients for many years to come. In the recent few decades, we have been introduced to various forms of furniture, including plastic, flat-pack, and comfortable furniture. Although these products market convenience, they are not reliable at all. Especially if you are thinking about having a wood fired hot tub in harsh and extreme weather conditions, plastic is not going to be a prudent solution.
On the contrary, how about trying wood fired hot tubs, designed to last? At TimberIN, we offer our valued clients excellent quality products made with the most excellent quality material by experts. So by buying the wood burning hot tubs from TimberIN, you are not investing in the relaxation but also in the quality and the time.
Wood fired hot tubs from TimberIN is not just the way to get relaxed alone or with family, but it also gives your backyard a unique traditional look. Having one of our wood burning hot tubs of your own in your backyard offers you more personalization and privacy. Tired from work and need to relax a bit in the hot water tub? Or want to enjoy some quality time with the love of your life? In either case, all you need is a wood fired hot tub in your backyard with some drinks and light music. Make your evenings more enjoyable and relaxing with the warm water, sweet music, and soothing sound of a crackling wood fire.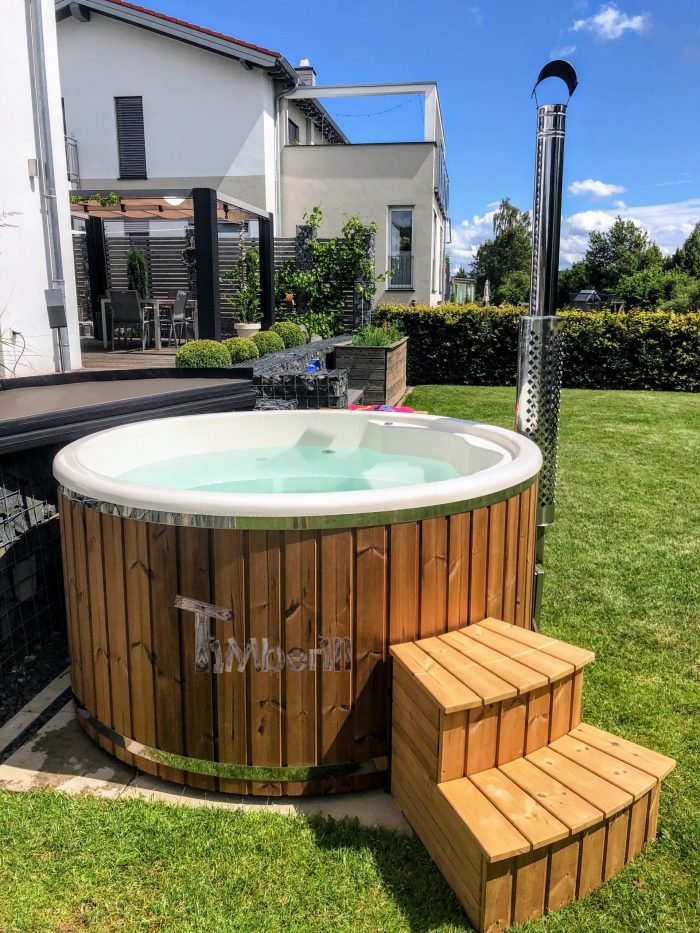 ---
Deliveries throughout Europe: Austria, Switzerland, Belgium, France, Denmark, the Czech Republic, Poland, Liechtenstein, Luxembourg, Italy, Spain, Ireland, Great Britain, Hungary, Slovenia, Slovakia, Romania, Latvia, Estonia, Norway….