Wooden Hot Tubs, Wood Fired Outdoor SPAS- Whirlpools for sale. Welcome to TimberIN MB
8 Main Steps for selecting and purchasing outdoor SPAS online!
Read more than 30 reviews and feedbacks of your neighbors;
Ask their contacts to validate by ringing or visiting them!
Take a look at frequently asked questions and blog articles gathered throughout the years of work;
Analyze and select from more than 30 different models with detailed images and videos;
Get familiarized with the purchase process and documentation;
Trust in our experience and education producing outdoor SPAS and servicing clients throughout Europe;
Trust in financially solid standing company certified among 5 % of local enterprises!
Outdoor hot tub from thermowood, Cockermouth, Cumbria, UK
TimberIN make a wonderful hot tub! I chose the Thermawood 1800mm model and it is just what I wanted, at a really good price. We happily get 6 adults in and could get more. It looks beautiful with lovely curved steps going up to it. My guests and friends just love it, and it has been in use almost continuously since the guys delivered it and I had a chance to fill and heat it. The heating is straightforward, and I can use up all sorts of waste wood on it which I can't use in the log burners (wood with nails, soft wood logs etc). I can really recommend Timberin.

Diana Clarke – High Swinside Holiday Cottages.
2016-05-25T09:09:27+00:00
https://www.woodenhottubsale.co.uk/testimonials/outdoor-hot-tub-from-thermowood-cockermouth-cumbria-uk/
Hot tub made of thermowood, Rowledge, UK
Here are my comments that you are free to add to your website as my testimonial:
"Throughout the entire ordering process, Albert and his team couldn't have been any more helpful with guidance, answering my many questions and keeping me updated throughout the manufacture and transport of my hot tub. When it arrived, the driver and his assistant were extremely helpful and hard-working with a "challenging" logistical problem of getting the hot tub into my garden.
Now that it is here, it is wonderful! It has been very difficult to get my wife out of the hot tub for the past week since it has arrived, and many family members have also come over to share in the fun!
If you are considering purchasing one of these products, I would highly recommend Albert and his team. The tub is of high quality and compared to others I looked at it was a very reasonable price.
Thank you TimberIN!"
2016-05-13T09:13:47+00:00
https://www.woodenhottubsale.co.uk/testimonials/hot-tub-made-of-thermowood-rowledge-uk/
Wooden hot tub, Siberian larch, Devon, England
Dear Albert
Thank you so much sorry for the late reply. The hot tub is up and running and works perfectly heats with 2 bags of logs and we had no leaks. We have had some great times already the kids love it. I have included a couple of photos for you. Some of the screws have needed re-screwing but nothing major. we could do with a care guide to let us know how to keep it at its best long term but overall it has been fantastic. The customer service has been excellent and as it is the first time I have ever bought directly from a company abroad I was apprehensive and so every time I contacted you for an update you were prompt and reassuring I would definitely recommend you.
Best wishes.
🙂 Claire
2015-10-21T06:28:42+00:00
https://www.woodenhottubsale.co.uk/testimonials/wooden-hot-tub-siberian-larch-devon-england/
Thermo wood hot tub with outside heater, Bovingdon Herts, UK
The drivers were great. After arriving at 8am and a quick coffee we all went about working out how to get the tub into place over 100 yards through the garden. They were with me until 9.30 and ensured it was in the correct place. The tub looks good. At the weekend we set about installing the filter plus the external log burner, as well as filling up the tub with water. The log burner is a great feature, although you do have to be careful to have dry quality wood otherwise there is a lot of smoke! The kids have already enjoyed the tub, and love it. We look forward to when the thermo wood has settled and properly sealed itself in the next month. We are sure we will get years of use from the tub on starry nights in winter and summer, both relaxing with friends or having fun with the kids; the simplicity of the workmanship makes it an attractive addition to our outdoor space.

Kind regards
Lloyd
2015-10-12T08:48:18+00:00
https://www.woodenhottubsale.co.uk/testimonials/thermo-wood-hot-tub-with-outside-heater-bovingdon-herts-uk/
Wood fired hot tub with polypropylene liner and inside heater, Insch, NE Scotland
Good morning Albert,
I've attached some photographs showing the hot tub in its final place. As you'll see I've yet to fully finish the decking but it's pretty much there. The hot tub is exactly what we were looking for and the build quality is fantastic. As per previous feedback on your website, the whole service from order to delivery was brilliant. Everyone at TimberIn was very helpful and professional. The hot tub eventually reached the end of it's journey (Kaunas to Insch, NE Scotland) late on a Thursday night. However the delivery drivers could not have been more helpful in ensuring the tub was properly installed before they left. We lit the hot tub that weekend during a family barbecue. Everyone was very impressed and couldn't wait to try it out - adults and kids all had a great time. It keeps it's temperature very well which is aided by the lid supplied. It's a great addition to our new home and we're very happy with it.
Thanks again
Murray
2015-09-30T08:01:15+00:00
https://www.woodenhottubsale.co.uk/testimonials/wood-fired-hot-tub-with-polypropylene-liner-and-inside-heater-insch-ne-scotland/
Wood burning hot tub with polypropylene liner and snorkel heater, Hinton Grange, Grove Lane, UK
Dear Albert,
We are over the moon with our new tub. It was delivered by the nicest delivery guys, it was easy to assemble and within a few hours it was hot enough to use. Already in just over 24 hours the kids have had great fun and the adults have enjoyed sitting under the stars. Another amazing attribute to these high quality tubs is that you can literally put them anywhere. Even the smell of burning wood wafting over adds to the overall experience. The price is amazing and we will no doubt be buying another for our holiday cottage business very soon. Thanks Albert and please make sure you praise your delivery guys too they represent your company perfectly. So efficient and polite.
Kind regards Angela Gent
2015-08-14T11:28:53+00:00
https://www.woodenhottubsale.co.uk/testimonials/wood-burning-hot-tub-with-polypropylene-liner-and-snorkel-heater-hinton-grange-grove-lane-uk/
Different properties of hardwood used to construct a wood heated hot tub
Spruce Versus Larch Versus Thermowood for wood heated hot tubs
Spruce, larch and thermowood are the three most popular types of wood used to construct wood heated hot tubs and outdoor spas today. Each type of wood has its own set of benefits and drawbacks when used to produce wood heated hot tubs, making it important that you take the time to learn about the various properties of each hardwood before you buy a wood heated hot tub.
Siberian spruce. What Is It?
Spruce wood is a variety of hardwood that is sourced from throughout Europe and is very commonly grown in Scandinavia. Featuring an appealing light color, spruce wood is a soft to medium grade hardwood that is used to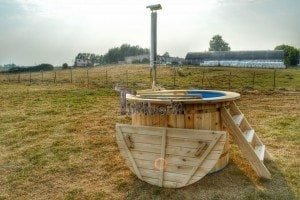 manufacture a wide variety of products beyond wooden hot tubs.
The benefits of spruce wood in wood heated hot tub production include the following: locks heat away to keep water warm and the surrounding area cool; does not leak resin to cause messes; softness makes construction easy and allows for simple treating; strong and durable; widely available, making prices usually lower.
The drawbacks of spruce wood: can rot because it is a less dense wood; requires regular sealing, making it more labor intensive.
Siberian Larch. What Is It?
Siberian larch wood is a very dense, incredibly hard variety of hardwood that grows in Northern Europe, mostly in the Russian conifer forests of Siberia. The hardwood is prized for being incredibly resilient and strong even without chemical additives and coatings. It is also considered one of the more eco friendly varieties of hardwood commonly used in construction today. Whole structures like homes and commercial buildings can be crafted out of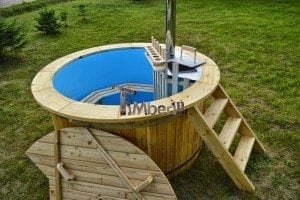 Siberian larch.
The benefits of Siberian larch wood in wood heated hot tubs include the following: highly resistant to rot and pests; very strong, durable wood; very long lasting; less need for sealing and maintenance.
Siberian larch is a hardwood that is sourced from the densely forested regions of the Siberian tundra in Russia. The wood has been used for more than 8 centuries to produce homes and other buildings, many of which stand today. Initially, Siberian larch was used primarily in local regions in Russia, but word of the impressive properties of the hardwood has spread over the years. Not only was the city of Venice largely crafted from the timbers, but today, modern builders throughout Scandinavia and Eastern Europe and from as far away as Japan choose Siberian larch as their preferred building material. In addition to being used extensively for constructing buildings, Siberian larch is often used to manufacture different types of wooden hot tubs, including wood fired hot tubs. You'll also find it used in the design of many outdoor saunas.
What are other benefits of Siberian larch?
So why is Siberian larch such an ideal material for constructing wood burning hot tubs? Here are its two key benefits:
Resistance to Rot & Pests. Wood heated hot tubs and outdoor saunas are exposed to a large amount of moisture, making them vulnerable to the effects of mold, mildew and pests that can rot and
damage wood. Siberian larch is much denser than other types of wood like yellow pine so it is much more difficult for pests and microbes to penetrate. In addition, Siberian larch contains natural antiseptic compounds that limit the growth of fungi and repel various pests.
Superior Durability. Weather conditions in Siberia are cold throughout most of the year, so Siberian larch has a dramatically short growing season. This means that more of the wood's content is dense, ultra strong latewood, which is far more resistant to wear and tear than the earlywood which is found in large amounts in other types of timber. This makes wooden hot tubs made from Siberian larch capable of outlasting others. Additionally, the wood is harder than others, so wood burning hot tubs fashioned out of Siberian larch are less likely to develop scratches, dents and blemishes. This means that new hot tubs and saunas will retain their handsome appearance for longer.
The drawbacks of Siberian Larch wood in wooden hot tubs include the following: more difficult to work with due to its extreme hardness; not as readily available and can be more expensive.
Thermowood. What Is It?
Thermowood is not a single species of hardwood. Instead, it is a combination of woods that have been put through a special high temperature process that uses vapor and steam to harden the wood and make it denser. The result is a strong hardwood that has a much lower moisture content than other varieties of hardwood, yet still has the same handsome wood grain as conventional woods.
The benefits of Thermowood in wooden hot tubs include the following: Greatly reduces moisture levels; Very resistant to rot and mold; Free of harsh chemical additives; Highly weatherproof.
The drawbacks of Thermowood in wooden hot tubs include the following: More expensive than other materials; Some people prefer the lighter color of natural woods.

Wooden Hot Tubs for Relaxation and Family Fun. What is there to know!
Wooden hot tubs during heating
Make sure the water level in wooden hot tub is sufficient (it should cover the higher inlet of the heater). Leave the lid on (as the water heats faster when the tub is covered). It is important to occasionally stir water in order to achieve steady temperature increase. It is recommended to keep water temperature at approximately 38°C. Especially for people with heart conditions.
Wooden hot tubs after bathing
Always wait for the oven to cool down completely before emptying the wooden hot tub. Never leave water in the wooden hot tub during the colder months (risk of freezing). If the hot tub is made from fiberglass or polypropylene, water should be either drained completely when not in use or heated regularly. To extend the service life of the grate, make sure to always remove the ash after using the oven.
Maintenance of wooden hot tubs
It is necessary to maintain the cleanliness and hygiene of the wooden hot tub. It should be washed regularly, a brush and mild soap are perfect for this task. When necessary and suitable, a chlorine treatment can also be used. Oiling the exterior of the wooden hot tub once a year helps to maximise its service life. For commercial use, a constant chlorination of water is
recommended. People with infectious skin diseases should avoid bathing hot tubs. Keep in mind the stairs may be slippery when wet. Also note the risk of frost in low temperatures which can lead to slippery ice.
Recycling of wooden hot tubs
Metal parts can be reprocessed. Wooden parts should be burned. Only the parts that were treated with wood preservatives are to be disposed of as hazardous waste.
How to choose a wood burning hot tub correctly! Electricity powered hot tubs are also available.
Our website enables to design a wood burning hot tub individually. It is very simple. One just needs to follow step by step instructions: (1) select wood type; (2) fiberglass or polypropylene color; (3) diameter; (4) type of heater; (5) type of stairs; (6) lid; (7) benches; (8) accessories. Also there is an automatic price calculation system under every model which helps to identify the price instantly. You don't have to wait for your quote anymore. But sure, if you have additional questions or comments, please contact us any time. We reply as soon as possible.
What are step by step instructions for a proper selection of wood burning hot tub?
(1) Select a wood type. Wood burning hot tubs from Siberian spruce, larch, thermowood, oak or red cedar can be selected. Thermowood is spruce processed in high temperature. This enables to withstand harsh climate conditions. (2) Fiberglass or polypropylene color: Polypropylene liners are available in blue, grey, white or black; Fiberglass liners are available in any of your desired color from RAL (ralcolor.com). (3) Diameter: For polypropylene lined hot tubs the diameter
range is 1600 – 2200 mm. However we do have rectangular models as well. All our fiberglass models come in 1850 mm of inner diameter. (4) Type of wood burning hot tub heaters: the most popular selection is snorkel (inside) stainless steel heater. Also we have a wide selection of external heaters. The difference is that the outer heater does not take space and therefore more persons can enjoy the wood burning hot tub at the same time. We do offer stainless steel heaters prepared in 430 or 316 stainless steel. 316 stainless steel is necessary if chlorine, water salts or any other water treatment solutions are used. The last but not least is electric heater. It is quite comfortable solution where wood usage is not the case. Also one can combine and install for example wood fired together with electric heaters. In this case the most of work will be done by wood burning heater but electric heater can keep water warm longer.
Wooden parts of wood burning hot tubs:
(5) Type of stairs: we offer "Basic", "A", "B" and "C" type stairs (each design is 3D rendered and can be found next to the hot tub`s description). (6) Type of covers: we offer "basic – wooden cover" which is included in every model. The last selection is wooden cover with thermal insulation layer. We always advise customers to use this cover since it prevent the deformation and keeps the water warm longer. We can also offer a stainless steel cover on the heater. It is very comfortable to avoid leafs or other impurities which may fall in water. (7) Type of benches: wooden benches are included into standard models. Also there is more luxurious option "wooden sunny benches". Polypropylene benches can be open or closed type. Close type is better for water savings.
Extra parts and SPA equipment for wood burning hot tubs:
(8) Accessories – external water release: this is a stainless steel crane with valve which enables to release dirty water more easily. It must be noted, that every model has a hose connection in the bottom as well (plug with stopper). (8) Accessories –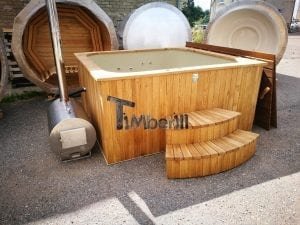 LED lights: led lights can make the experience of bathing more brilliant. We can install as many as you like but the most popular selection is 3-4 units. Led bulb has 7 different colors which can be changed with the help of remote controller which is installed in the round wooden edge. (8) Accessories – Hydro massage system comes with 6 jets which are installed into the walls. (8) Accessories – Air bubble massage system comes with 12 jets. It can be used together with hydro massage system or separately. (8) Accessories –Water filtration system: this equipment is necessary if the wood burning hot tub is used very often (3 or more times a week). It filtrates water therefore one does not need to change it very often.
Thermo insulation options:
(8) Accessories – wall thermal insulation of wood burning hot tubs is a very common choice because it is necessary for many SPA equipment to be installed properly. Also it enables to keep water warm longer. (8) Accessories – floor insulation: the biggest loss of heat is through the bottom since ground is always a cold surface. Floor insulation helps to prevent it. (8) Accessories – painting: we can paint the wood burning hot tub in any chosen color; (8) Accessories – oiling: we can perform the first maintenance of wood by oiling it 3 times;
Wood fired hot tubs in general. Get familiar with them!
If you're looking for way to add value to your home while creating a center for family fun, consider installing a wood fired hot tub. Wood fired hot tubs are attractive, affordable and a great way to unwind after a long day at work or school. They come in a variety of sizes and styles, making them the perfect choice for any family. Whether you're an empty nester, a family of 4 or a family of 10, there are plenty of hot tubs on the market that will fit your budget and your needs.
Features of wood fired hot tubs
If you've never heard of a wood fired hot tub, you're really missing out. Wood fired hot tubs – sometimes called barrel hot tubs – are taking the country by storm. They are made with high-quality treated wood that won't warp when exposed to water also they may have some sort of inner liner (fiberglass or polypropylene). They are extremely simple,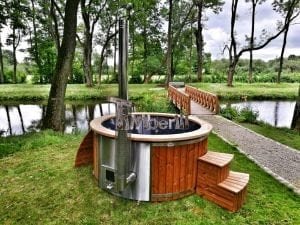 with straight or conical backs and long benches. Wood fired hot tubs have a very pleasant aroma when warm water heats the wooden boards. The combination of heat and scent is more relaxing than a traditional hot tub. They can be round, square or even oval in shape, depending on how many people you need to fit in them. Wood fired hot tubs can be made with a variety of accessories, like matching stairs, covers and custom jets. The hot tubs can be made to suit, or pre-fab options are also available. Many people install a deck around their hot tub to make getting in and out easy. For smaller spaces, freestanding hot tubs with a simple set of stairs leading up is all you need.
Heating source of wood fired hot tubs
Wood fired hot tubs are extremely versatile, particularly when it comes to their heating source. While traditional hot tubs almost always run off of electricity, wooden hot tubs can run off a number of heat sources including wood, electricity and a combination of the two. Most people choose to heat their wood fired hot tubs with wood. Wood fired hot tubs are popular because there are less limitations to placement. A wood fired hot tub can be put well beyond the reach of a deck, in a secluded and quiet part of the yard. The wood fire gets the water hotter, faster and has a pleasant aroma. Wood is also very economical and those living on a wooded lot can chop their own wood to essentially run their hot tub for free. If you've been thinking about getting a hot tub for relaxation and family fun, consider a wooden hot tub. Today's models have the features you want with the richness and tradition. Install a wood heater to go with it and you'll have a fun, financially economical solution to your outdoor recreational needs.
Welcome to MB TimberIN Group
TimberIN is international company and we offer our production in all western Europe. Now we are happy offering our production to the UK and hopefully for best possible price-quality ratio. We have a wide selection of wooden hot tubs and outdoor saunas. We have many testimonials and reviews of our product which can be found on our website or Facebook.
Mission: make the purchase of wooden hot tubs safe and quick.
Vision: to be a leading company in supplying individually designed hand crafted wooden hot tubs to end-customers.
Responsibility: Our method of work is closely connected with the customer's satisfaction, therefore we always respond to the customer within the 24 hours (24/7).
We give 2 years warranty to our products if they are used according to our recommendations. TimberIN Europe:
Germany:
Denmark:
Norway:
France:
Italy:
The Netherlands, Belgium:
Sweden:
We deliver our products to:
Great Britain territory including: Glasgow, Edinburg, Newcastle, Leeds, Liverpool, Nottingham, Birmingham, Cardiff, London, Portsmouth, Plymouth, Oxford, Bath, Bristol, York, Manchester, Brighton, Leicester, Hull, Blackpool, Sheffield, Norwich…
Throughout Europe: Austria, Switzerland, Belgium, France, Denmark, the Czech Republic, Poland, Liechtenstein, Luxembourg, Italy, Spain, Ireland, Great Britain, Hungary, Slovenia, Slovakia, Romania, Latvia, Estonia, Norway….