Wood Fired Hot Tubs for Sale UK | Wooden Hot Tubs, Wood Burning Hot Tubs | TimberIN Hot Tubs
Weekly deliveries to the UK, Scotland, Ireland and throughout Europe!
---
Best selling models of 2017 at a glance !
---
Latest pictures from our clients throughout Europe!
---
Beautiful wood fired hot tubs – wooden hot tubs – wood burning hot tubs in their natural surroundings!
Outdoor hot tub from thermowood, Cockermouth, Cumbria, UK
TimberIN make a wonderful hot tub! I chose the Thermawood 1800mm model and it is just what I wanted, at a really good price. We happily get 6 adults in and could get more. It looks beautiful with lovely curved steps going up to it. My guests and friends just love it, and it has been in use almost continuously since the guys delivered it and I had a chance to fill and heat it. The heating is straightforward, and I can use up all sorts of waste wood on it which I can't use in the log burners (wood with nails, soft wood logs etc). I can really recommend Timberin.

Diana Clarke – High Swinside Holiday Cottages.
wood fired hot tub thermowood
2016-05-25T09:09:27+00:00
https://www.woodenhottubsale.co.uk/testimonials/outdoor-hot-tub-from-thermowood-cockermouth-cumbria-uk/
Hot tub made of thermowood, Rowledge, UK
Here are my comments that you are free to add to your website as my testimonial:
"Throughout the entire ordering process, Albert and his team couldn't have been any more helpful with guidance, answering my many questions and keeping me updated throughout the manufacture and transport of my hot tub. When it arrived, the driver and his assistant were extremely helpful and hard-working with a "challenging" logistical problem of getting the hot tub into my garden.
Now that it is here, it is wonderful! It has been very difficult to get my wife out of the hot tub for the past week since it has arrived, and many family members have also come over to share in the fun!
If you are considering purchasing one of these products, I would highly recommend Albert and his team. The tub is of high quality and compared to others I looked at it was a very reasonable price.
Thank you TimberIN!"
wooden hot tub made of thermowood
2016-05-13T09:13:47+00:00
https://www.woodenhottubsale.co.uk/testimonials/hot-tub-made-of-thermowood-rowledge-uk/
Wooden hot tub, Siberian larch, Devon, England
Dear Albert
Thank you so much sorry for the late reply. The hot tub is up and running and works perfectly heats with 2 bags of logs and we had no leaks. We have had some great times already the kids love it. I have included a couple of photos for you. Some of the screws have needed re-screwing but nothing major. we could do with a care guide to let us know how to keep it at its best long term but overall it has been fantastic. The customer service has been excellent and as it is the first time I have ever bought directly from a company abroad I was apprehensive and so every time I contacted you for an update you were prompt and reassuring I would definitely recommend you.
Best wishes.
🙂 Claire
2015-10-21T06:28:42+00:00
https://www.woodenhottubsale.co.uk/testimonials/wooden-hot-tub-siberian-larch-devon-england/
---
Let's spread the knowledge! Most popular blog articles about wood fired hot tubs
---
Well, you should by now have probably seen many companies offering wood fired hot tubs, why is TimberIN different?
TimberIN Baltic SPA & Saunas has been officially certified by European Union Intellectual Property Office (Certification No. 016147597) and registered to the European Union trademarks. We are excited to announce the launch of our new Bluetooth thermometer "TimberTEMP®" – a revolutionary accessory to simplify the wooden hot tub water heating process.
This thermometer is a product of our ongoing collaboration with Kaunas University of Technology (KTU) to bring innovations to the field of outdoor wooden hot tubs.
How does the hot tub thermometer work?
The thermometer is accompanied by an app "TimberTemp®", which you can download for free from the Google Play store for Android or from iTunes for iOs devices. Connect the thermometer to your phone through Bluetooth, place it in the tub and follow the temperature changes in the app. The app allows you to set how often you would like the thermometer to report temperature and to set notifications. Say you would like the water to heat up to 38°C. Simply set this temperature on the app and it will notify you when the water heats up. This feature is also very useful during the colder months. If you are worried that water left in the hot tub may freeze overnight, set the temperature to 0°C and you will be notified if it cools down to this temperature and water needs to be emptied (please note: this feature is fully functioning on the Android app and currently being perfected on the iOs app).
---
How to choose a wood fired hot tub correctly! Electricity powered hot tubs are also available.
Our website enables to design a wood burning hot tub or an outdoor sauna individually. It is very simple: one just needs to follow step by step instructions and your new wood fired hot tubs is ready to go: (1) select the wood type; (2) fiberglass or polypropylene color; (3) diameter; (4) type of heater; (5) type of stairs; (6) lid; (7) benches; (8) accessories. Also, there is an automatic price calculation system under every model which helps to identify the price instantly. You don't have to wait for your quote anymore. Surely, if you have additional questions or comments, please contact us anytime. We reply as soon as possible.
What is step by step instructions for a proper selection of wood fired hot tub?
(1) Select a wood type. Wood fired hot tubs from Siberian spruce, larch, thermowood, oak or red cedar can be selected. Thermowood`s origin is spruce processed in high temperature. As a result, it enables to withstand harsh climate conditions and minimize the humidity caused deformations.
(2) Fiberglass or polypropylene color of wood fired hot tubs. Polypropylene liners are available in blue, gray, white or black. Fiberglass liners are available in any of your desired colors from RAL (ralcolor.com).
(3) Diameter: For polypropylene lined wood fired hot tubs the diameter
range is 1600 – 2200 mm. However, we do have rectangular models as well. All our fiberglass models come in 1850 mm of inner diameter.
(4) Type of wood burning hot tub heaters. The most popular selection is snorkel (inside) stainless steel heater. Also, we have a wide selection of external heaters. The difference is that the external heaters don't take space and, therefore, more persons can enjoy the wood fired hot tub at the same time. We do offer heaters prepared in 430 or 316 stainless steel. 316 stainless steel is necessary if chlorine, water salts or any other water treatment solutions are used. The last but not least is an electric heater. It is quite a comfortable solution where wood usage is not the case. Also, one can combine and install both wood fired and electric heater.
(5) Type of stairs. Wood fired hot tubs can be equipped with 4 types of stairs. They differ in size and design. To see the designs we offer, please select the particular model of wood fired hot tubs and click 3D section next to the description.
(6) Type of lids. Wood fired hot tubs can be equipped with wooden, polypropylene or fiberglass lids. Nature of the lid depends on the type of wood fired hot tub.
(7) Type of benches. We offer 3 different types of benches, however, it very much depends on the model of wood fired hot tub. While the wooden hot tubs will have only wooden benches, wood fired hot tubs with polypropylene liner can be built with wooden and polypropylene benches. Since polypropylene is artificial material, it would last definitely longer.
Wooden hot tubs even fancier? Equip them with LED, massage systems, filtration and more!
(1) External water tap (optional). Stainless steel tap with a valve which enables to drain dirty water more easily. Every model of wood fired hot tubs comes with a loose hose connector (plug with the stopper) which is to be installed at the bottom.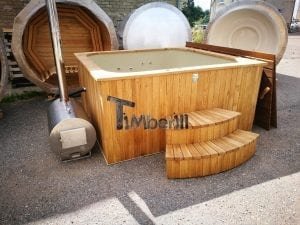 (2) LED lights (optional). Led lights can make the experience of bathing way better. We can install as many as you like but the most popular option is 3-4 units. The led bulb has 5 different colors which can be changed with the help of remote controller fitted to the tub`s wall. Walls of wooden hot tubs must be insulated.
(3) Hydro massage system (optional). This massage system comes with 6 jets which are already pre-installed into the walls of the wooden hot tubs with fiberglass liners. Wooden hot tubs with massage systems must be insulated.
(4) Air bubble massage system (optional). Air massage system comes with 12 jets. It can be used together with hydro massage system or separately. The main difference between these two massage systems is that the hydro massage is much stronger and the water current is stimulating your body. Air bubble system, on the other hand, makes you feel more relaxed and tension free. Air bubble jets are installed into the bottom of the wooden hot tubs.
(5) Water filtration system. This accessory is very useful and all wooden hot tubs should have one pre-installed.
Thermal insulation of wooden hot tubs:
(1) Wall thermal insulation of wood burning hot tubs is a very common choice because it is necessary for massage systems to be installed properly. Also, it enables to keep water warm longer.
(2) Floor insulation: The biggest loss of heat is through the floor since the ground is always a cold surface. Floor insulation helps to prevent it.
(3) Lid insulation: Together with above-mentioned insulation options, lid insulation completes it all. With fully insulated wood burning hot tub one will be able not just to save energy heating the water but warmth will stay there much longer!
---
Wood burning hot tubs: time to heat and temperature control. What is there to know!
The temperature control of wood burning hot tubs and the time to heat the water is a very popular topic. Everyone wants to reduce the hot tub's water heating time to the minimum because that reduces the costs of running wood burning hot tubs. Once the water is there, it is very important to know how to control the heat. There are several factors that, in a way or another, will play a role in adjusting the heating time of wood burning hot tubs.
Water volume of wood burning hot tubs:
The water volume is one of the most critical factors to consider. If you have a big wood burning hot tub (2 m. or more), for more than eight people, the water heating time will be considerably higher compared with smaller wood burning hot tubs.
Not only the size of wood burning hot tubs must be considered but also the movement of water inside it. The tendency of hot water is to go up, therefore, cold water will be deposited in the bottom layers of the wood burning hot tubs. If the water is not being mixed constantly, in the end, you will get a warm surface but with a cold bottom.
Properties of firewood:
The outside temperature has one of the most important roles in changing the heating time. It is reasonable to think that it may be longer to heat water during the winter than in summer. This is due to more energy is required to heat water from lower temperatures. This energy can be altered by adding the right amount of wood into the oven`s hatch. The wood must be dry in order to obtain the optimal amount of energy during the combustion process. We would recommend using dry alder to alter this process.
Water temperature control of wood burning hot tubs:
As soon as water reached the optimal temperature, there is another thing to consider – controlling the temperature. There are two main things to consider: the amount of wood in the hatch; the constant check of water temperature and if required filling cold water to reduce the heat. If this sounds a bit frustrating, we would recommend an electric heater which has a thermostat, therefore, water`s temperature control becomes super easy.
---
TimberIN Baltic SPA & Saunas – Europe:
Germany:
Denmark:
Norway:
France:
Italy:
The Netherlands, Belgium:
Sweden:
UK (new):
---
We deliver wood burning hot tubs from Lithuania to:
Great Britain territory including Greenock, Sunderland, Southampton, Bristol, Bournemouth, Omagh, Chester, Swansea, Carlisle, Southend, Reading, Leicester, Bradford, Sheffield, Fort William, Ayr, Aberdeen, Perth, Dundee, Middlesbrough, Coventry, Bath, Exeter, Cambridge, Kingston upon Hull, Londonderry, Lisburn, Penzance, York, Blackpool, Dumfries, Scarborough, Plymouth, Ipswich, Norwich, Brighton, Kirkwall, Inverness, Oxford, Luton, Portsmouth, Peterborough, Nottingham, Stoke, Dover, Edinburgh, Newcastle, Liverpool, Cardiff, Wick, Leeds, Lerwick, Manchester, Birmingham, Belfast, Glasgow, London, Ros Comain, Muineachan, Shannon, Waterford, Tralee, Donegal, Drogheda, Dundalk, Galway, Kilkenny, Killarney, Sligo, Cork, Limerick, Dublin, Douglas,
Throughout Europe: Austria, Switzerland, Belgium, France, Denmark, the Czech Republic, Poland, Liechtenstein, Luxembourg, Italy, Spain, Ireland, Great Britain, Hungary, Slovenia, Slovakia, Romania, Latvia, Estonia, Norway….
Summary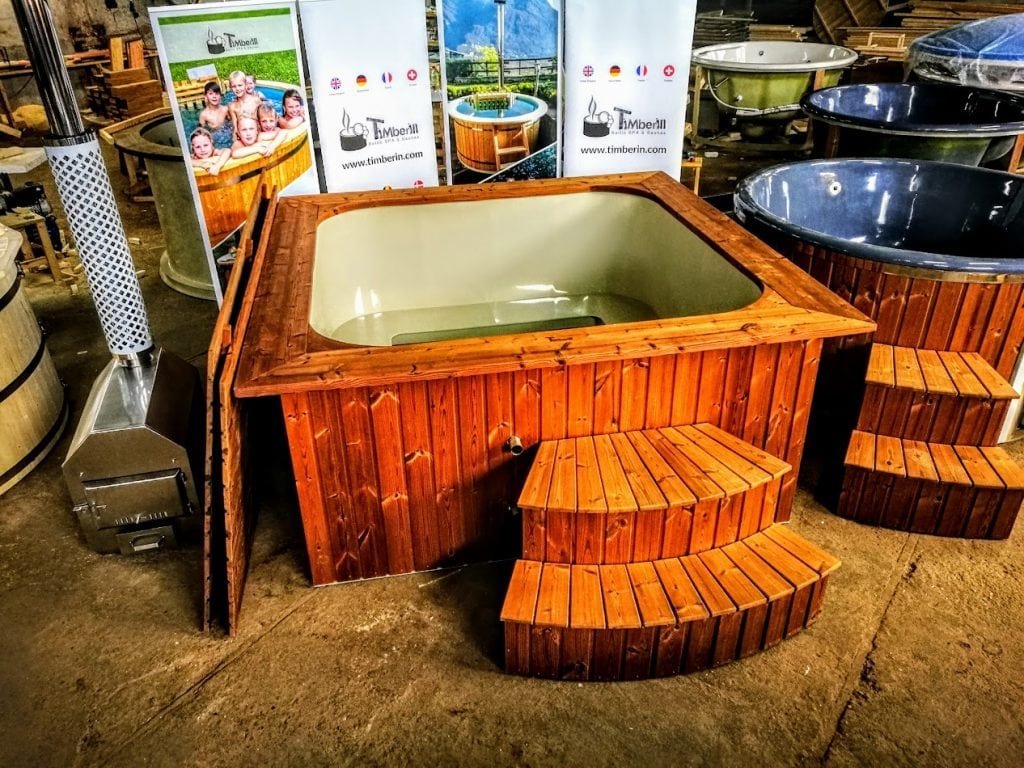 Service Type
Outdoor Hot Tubs Jacuzzi for sale
Provider Name
TimberIN - Baltic SPA & Saunas
,
63 Handfield road
,
Liverpool
,
Waterloo
-
L220NU
,
Telephone No.07596 195196
Area
Description
Individually designed, hand-crafted outdoor hot tubs and saunas throughout Europe!