Wouldn't it be great to have the possibility to take your favorite pastime – unwinding in a steaming sauna – anywhere with you? Sauna on a trailer provides just that! The process of choosing and registering a sauna on wheels may seem daunting at first, but this overview of essential aspects of a mobile sauna will prove otherwise.
ADVANTAGES & UNIQUE FEATURES
At first glance, a sauna on wheels is just that – a standard sauna. However, its mobility provides unique advantages over fixed-position saunas.
Flexibility
Flexibility defines saunas on trailers, as such units can be moved and position virtually anywhere if the path to the desired location is accessible and the ground is sturdy enough. In contrast to traditional saunas, there is no necessity to prepare a (concrete, tiled or wooden) foundation. One day, the sauna can be positioned in one corner of your residence, the next day it can be towed to the opposite corner – with a mobile sauna you can do as you please! What is more, a mobile sauna does not qualify as a building, thus permits for building new structures are not required.
Business opportunities
For those with an entrepreneurial streak, a sauna on a trailer provides plenty of opportunities. Renting a sauna is steadily gaining popularity for obvious reasons, the first and foremost being a good and affordable opportunity to enjoy a sauna with friends and family, without having the means to have a sauna at home. Rent-a-sauna services are very popular in music and culture festivals, where they take up similar space as a fast food truck yet provide relaxation and endless entertainment for festival-goers. A sauna rental business venture is very appealing because of the growing demand for such services and relatively small investments.
CONSTRUCTION
Our mobile saunas are fixed to a double axle trailer and stand on four wheels (two on each side). The trailer features a female coupler lock. The weight of the trailer ranges from 250 to 450kg, based on the length. The total length of a mobile sauna is calculated by adding up the length of the sauna + 1,5 meters (which is the front-end of the trailer). For example, a 3-meter barrel sauna, mounted on a trailer, would make a 4,5-meter long unit. The total length should be taken into account when planning routes and choosing parking spots.
ROADWORTHINESS
Mobile saunas are available either without or with brakes. According to EU regulations, any vehicle that weighs over 750kg must be braked to be considered roadworthy. All mobile saunas, which will be driven on the street, must have braked trailers. If the mobile sauna will be only re-positioned in private property and will not be driven on the streets, brakes are not necessary. Towing a mobile sauna does not require a special driver's license if the maximum authorized mass of the vehicle and the mobile sauna on a trailer does not exceed 3500kg. If the total weight exceeds this limit, a special BE category is required. The threshold of total weight may be different in your country, please look into local regulations beforehand.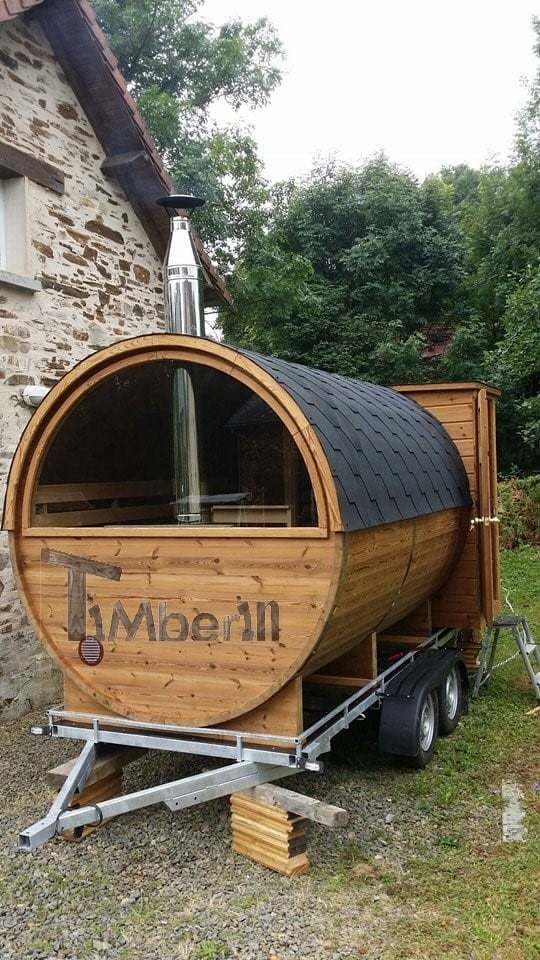 DELIVERY & UNLOADING
To ensure that the sauna is delivered in top condition, mobile saunas are delivered in standard 17m long lorries. During transportation, the wheels are taken off the trailer to prevent the mobile sauna from moving during transportation. The sauna itself is fully assembled and fixed to the trailer before delivery. All that is left to do after receiving the sauna is to screw on the wheels.
For unloading the mobile sauna, a forklift or a crane is ideal. Because of its length, it is most convenient to unload a mobile sauna from the side of the lorry.
REGISTRATION
The mobile sauna comes with a package of registration documents, which include a registration certificate, temporary insurance, and a certificate of conformity, issued by the manufacturer. The trailer we use for our saunas is manufactured in Lithuania by a partner company. The registration of the trailer is valid for one month. After delivery, the mobile sauna must be registered locally. The process is analogous to that of purchasing an automobile in another EU country and then re-registering it in your country.
—
This is the essential info you need for choosing a mobile sauna. Receiving a sauna on wheels may involve more thorough thought and preparation, but it is certainly worth it. Please feel free to contact us if you have any questions.
---