Your hand-crafted hot tub or sauna is finished! – what happens then?
It won't be long before you can enjoy a relaxing bath, but first, your hot tub or sauna must be carefully packaged – it should be placed on a sturdy base, strapped in place and wrapped with a protective layer. A well-packaged parcel is both easier to transport and unload. Here at TimberIN, we place great importance on the packaging to ensure that your brand new hot tub or sauna arrives in perfect condition.
Stable base – a standard Euro-palette
All tubs and saunas are placed on a stable base – a standard Euro-palette. Assembled tubs are placed vertically for easier handling. Larger and longer parts of non-assembled tubs and saunas are also placed vertically, while smaller and shorter parts are stacked horizontally (see below).
Cushioning and stabilization
To protect the polypropylene or fiberglass shell, a cardboard sheet is inserted under the lid of every assembled hot tub. Once the hot tub is placed on a Euro-palette, it is secured in place by wrapping a strap across the tub and under the Euro-palette and tightening it. The same goes for non-assembled products, which are stacked and then strapped in place.
Wrapping
Once all parts of the hot tub or sauna are secured and strapped, the whole package is thoroughly wrapped in protective plastic film. It helps to keep all of the parts intact and protects the product from cosmetic damage.
There you have it – the securely placed, strapped and wrapped package is on its way.
Below you can find measurements of all packaged tubs and saunas.
Measurements of fully-packaged products: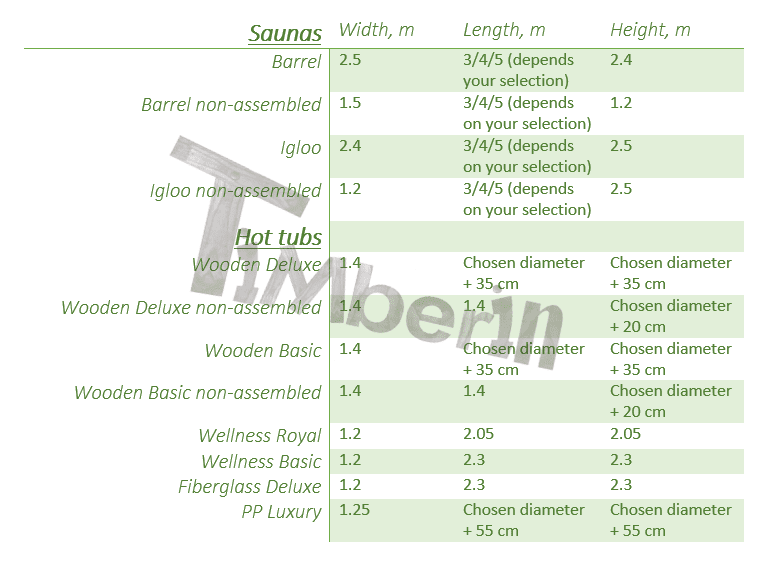 ---