Comparing hot tub prices on the market
No surprise that price is one of the main factors when choosing the wood-fired hot tub. Some will choose the most expensive one, as they might think – the more expensive, the better, whereas others will go for a cheaper variant because they have dedicated only a certain amount of money for this purchase. You will find many different offers on the market, but most importantly, do not forget the quality and trust. Here we will overview several brands offering a similar product with possible options and upgrades. We decided to look closer at our best-seller, favorite customer's choice – fiberglass wellness royal, compared to other brands' fiberglass tubs. Isn't that interesting? At the beginning seems like they are very similar, however, the configuration, options, and accessories vary depending on the company. We will discuss this table below.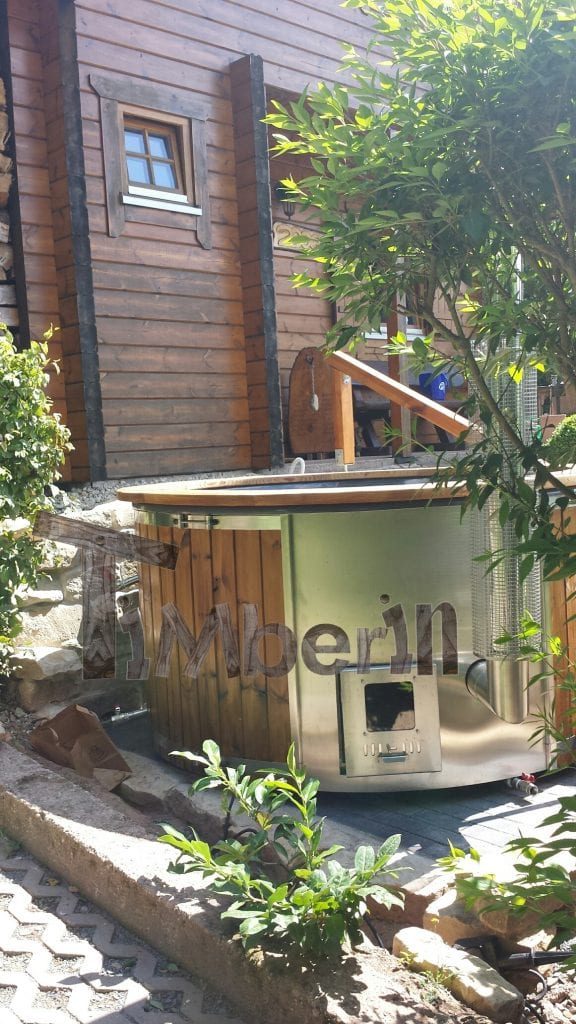 As you can see the price difference is quite visible comparing the cheapest and the most expensive offers, however, not all of the parts that are included in the final price are the same. The most important thing is to find what suits your needs the best. It was quite difficult to find the same configuration in all of these websites because of different exposition and variations. For example, all companies except Skargards can make different modifications according to customer's needs, the customer may choose which parts he would like to have in the tub, whereas Skargards has several models that are already made with the exact same configuration, therefore it can be shipped to your address within 24 hours. It is a time saver for busy customers who are happy with this basic offer and do not need any changes. The size of the tub is almost the same in all cases and all of the discussed offers have children seat and integrated oven.
Fiberglass lid is included in all cases, except Skargards, there you have to order the lid separately, and they prefer canvas covers. However, some companies like TimberIN and Royal Tubs offer additional insulation for both fiberglass and wooden lids, but only TimberIN provides free bottom and wall insulation. Please note that wooden lid is recommended when having a wide wooden sill because otherwise, a wooden lid can damage the fiberglass edge. Three companies offer wooden paddle for stirring water as an accessory which is already included in the price, and TimberIN is even offering a smart 3D printed thermometer for free. You should tell us, do small details actually matter? Anyway, it always depends on the company's policy. Skargards and The Hot Tub Team do not include any accessories. Please note, that this information and prices are based on the website information, without placing the actual quotation, therefore some information might be missing.
Let's compare the heaters offered by these five companies. TimberIN offers electric heater that can be used together with a wood-fired heater or separately, that means your tub can be heated only on electricity. Royal Tubs also offer electric heaters, which can be installed in the tub together with wood-fired heater, this simply shortens the heating time, which is always helpful. Different stainless steel options that allow chemical water treatment are offered by four out of five companies: TimberIN, Skargards, Royal Tubs, and Gardenwellness24. Skarsgard offers stainless steel upgrade which is already included in the prices, whereas in other cases, it is optional and costs more. Before choosing the type of steel you should decide on water treatment because if you are ready to use chemicals, you definitely need the chlorine resistant stainless steel.
Fiberglass hot tub with integrated oven
TimberIN
Skargards
Royal Tubs
Hot Tub Team
Garden wellness 24
Country
Lithuania
Sweden
United Kingdom
Lithuania
Lithuania
Wood type
Thermowood
Eco-certified wood, type not identified
Thermowood
Thermowood
Thermowood
Liner
Fiberglass
Fiberglass
Fiberglass
Fiberglass
Fiberglass
Oven
Integrated
Optional:
•Chlorine-resistant stainless steel
•Electric heater

Integrated Chlorine-resistant stainless steel
Integrated
Optional:
•Chlorine-resistant stainless steel
•Electric heater

integrated
Optional:
•Electric heater

Integrated
Optional:
•Chlorine-resistant stainless steel


Internal diameter
180cm
171cm
180cm
180cm
180cm
External diameter
200cm
190cm
200cm
203cm
Information not found on the website
People capacity
6-8 people
5-7 people
6-8 people
6-8 people
6-8 people
Children seat
yes
yes
yes
yes
yes
Lid
Fiberglass insulated lid
Optional:
•Wooden lid
•Wooden insulated lid

Not included (ordered separately from accessories category)
Fiberglass
Optional:
• Fiberglass insulated lid
• Wooden lid
• PVC cover

Fiberglass
Optional:
• Wooden lid

fiberglass
Insulation
Wall+
Bottom+
Lid+

Not included
Not included
Wall+
Bottom+

Not included
Water drain
External water tap
External water tap
External water tap
External water tap
External water tap
Round top edge
Fiberglass
Optional:
• Wooden sill

Fiberglass
Fiberglass
Fiberglass
Optional:
• Wooden sill

Fiberglass
Accessories
Wooden paddle,
TimberTemp® – Smart 3D Printed Thermometer by TimberIN

Not included
Wooden paddle
Not included
Wooden paddle
Chimney protection
yes
Not included
yes
yes
yes
Wooden stairs
yes
Not included
yes
yes
yes
2 stainless steel rings
yes
Not included
yes
yes
yes
Shipping
To UK mainland included
To UK mainland included
UK Delivery up to 100 miles from LE16 8RT: +111€
To UK included
No information provided before the exact address is given
Total
3290€ (VAT incl.)
4321€ (VAT incl.)
4799€ (VAT incl.)+ shipping if further
3454€ (VAT incl.)
2718€ (VAT incl.) + shipping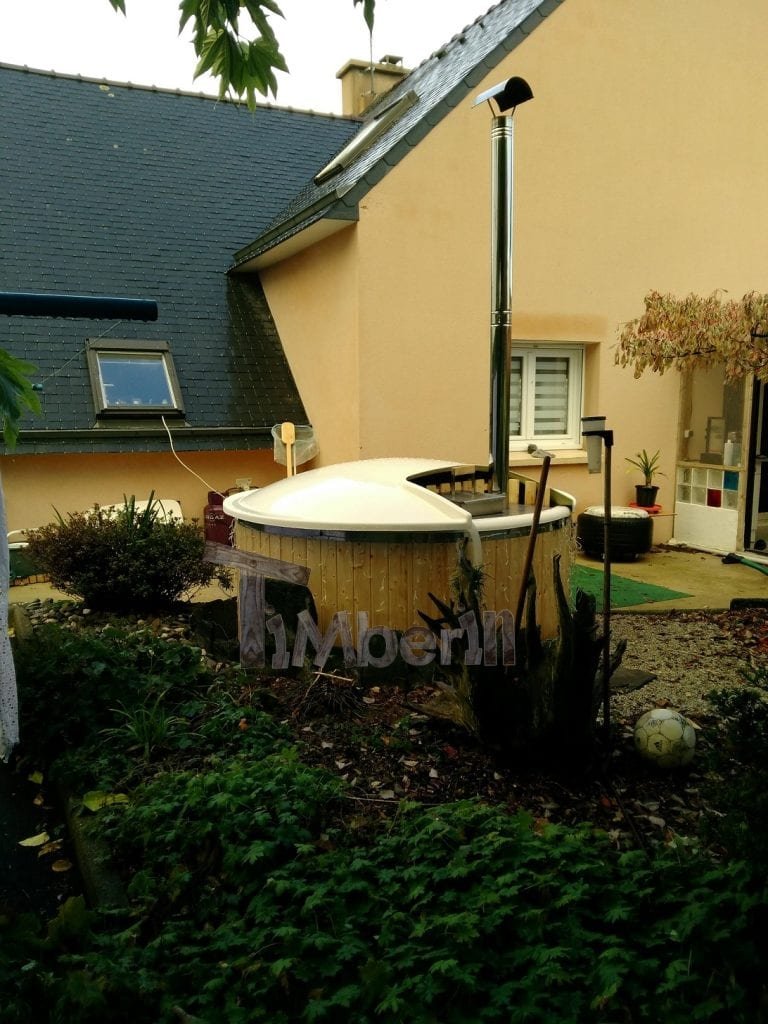 Another relevant topic is shipping. All companies are looking for the best way to calculate the shipping, but there is only one that included the full shipping price. For others, more information is necessary, or only a specific area has a certain, fixed price like Royal Tubs. The reason why it is difficult to set the fixed price is that shipping to islands is much more expensive, especially when the parcel is not of a standard size. As you see almost all companies face the same issues and use similar strategies to calculate the price, therefore postcode is necessary.
| | | | | | |
| --- | --- | --- | --- | --- | --- |
| | TimberIN | Skargards | Royal Tubs | Hot Tub Team | Garden wellness 24 |
| Air massage system | 375€ | 593€ | 569€ | 578€ | 290€ |
| Hydro massage system | 395€ | Option not available | 569€ | 630€ | 450€ |
| LED light | 140€ | 296€ | 227€ | 131€ | 149€ |
| Electric heater | 6kW with circulation pump – 600€ | 2kW – 182€ (only heater) | 3kW with circulation pump – 570€ | 3kW – with circulation pump 577€ | Option not available |
Here we have analyzed the most common accessories and the difference is quite shocking as the price can be more than two times higher for the same type of product, for example, LED light. Of course, a brand of the product may vary and please note that almost all prices are taken from accessories page on the websites, therefore all these prices do not include mounting costs and everyone can buy them separately. The only exception is GardenWellness24, as they do not have the accessories category, the price might include the mounting costs. TimberIN and Royal Tubs offer electric heater as an option in already assembled tubs and do not sell them separately, whereas Skargards sell 2kW heater and if you are wondering, why it is so cheap, the reason is very simple, it does not include any other necessary parts, only the heater.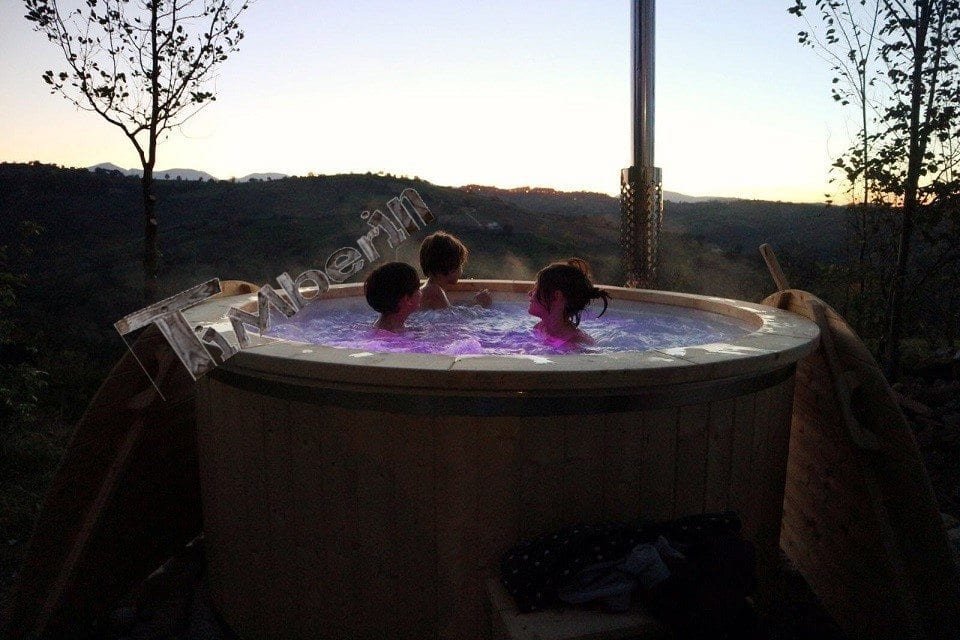 To conclude, it can be said that there is a quite wide price range of the same products on the market. Furthermore, there are many variations and it is hard to find the exact same configuration of the fiberglass tub, therefore the comparison of the final price is not so accurate. For this reason, we looked at the basic structure and several accessories that are either included in the price or not, because of every detail matter when you think about the final product that you receive. The intention of this article was to overview the prices on the hot tub market and to enlighten those looking for the best offer. Our opinion is conducted by analyzing the companies' websites in October – November 2017 and updated on the 20th of April, 2018 without placing a quotation. 1 GBP equaled 1.14 EUR. Rounding up to a whole number. Do not forget about the quality, let it be your benchmark when choosing your future hot tub.
how much are wood fired hot tubs
One can get the wood fired hot tub for as low as 1500 EUR