Home Page › 2 person wooden hot tub – small wooden hot tub
2 Person Wooden Hot Tub – Small Wooden hot tub
Nowadays there are many facets of relaxation one can indulge in. A 2 person wooden hot tub or a small wooden hot tub can definitely be one of them. Whether you just got home tired from work, need a couple of hours of the hustle and bustle of everyday life, or just something to keep you content. The modern convenience of on-demand movies and television, as well as food delivery services, make it quick and easy to kick back and loosen up at any time. Time-tested options such as reading a good book or just laying down in a warm and cozy bed remain quite popular as well. In regards to relaxation – the options are limitless. As the winter season arrives, one of the most popular activities returns to prominence – bathing in a warm and soothing 2 person wooden hot tub. Looking for a bigger model? Please see our best seller here.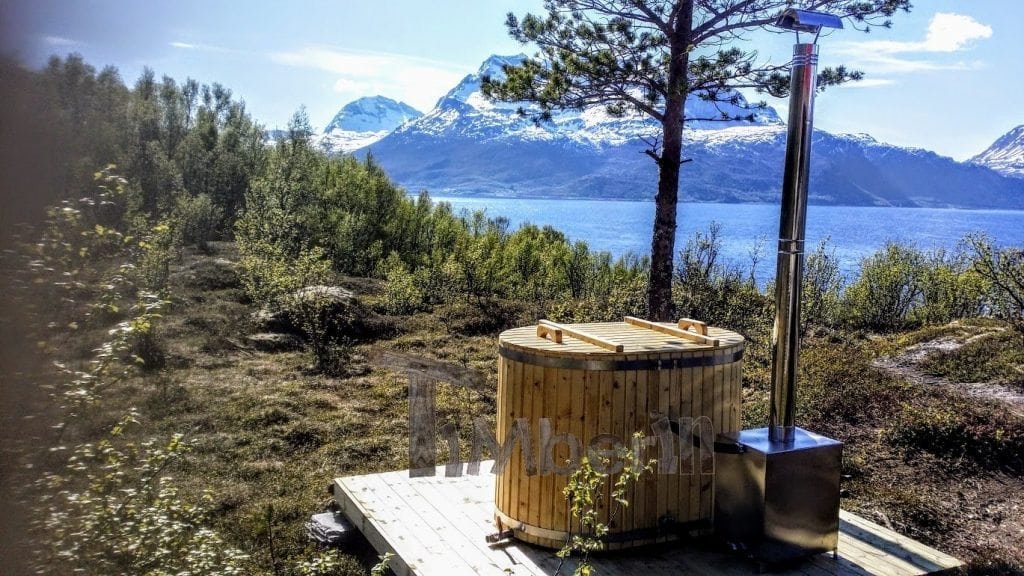 ---
2 person wooden hot tub – a great way to relax and enjoy life in a nowadays busy world
As technology improves by the day, so do many branches of life along with it. Be it the aforementioned on-demand services, or the transformation of printed media into digital – small wooden hot tubs are no exception. Automated filtration systems, remote-controlled heaters, internal massage systems, more and more advancements are being made, to enhance the 2 people hot tub experience. Although it may not seem like it, all of these additions do not require a massive +16 person mammoth of a hot tub. A minimalistic TimberIN 2 person wooden hot tub can fit all of these same quality heaters, pumps, and jets. Compact 2 person small hot tubs often have many benefits over their large counterparts that can be overlooked when choosing the best model for you. This is why we have decided to outline some of them in this blog entry.
---
You can also check:
---
Main benefits of small wooden hot tub:
Space required:

Many people still think, that to have a 2 person wooden hot tub, one requires a large backyard and a private luxury household. However, the TimberIN small wooden hot tub is meant for two people requires minimal space and can be placed in a large variety of locations. It can stand in a balcony, a small patio or a roof deck. If none of these options are available, it can even be situated inside the home. It will remain durable and dazzling for many years, no matter if it is kept inside or outside.

Portability:

A small 2 person small hot tub is generally considered to be something static, that is kept in the same place for many years. With a 2 person wooden hot tub, this is not the case at all. The small wooden hot tub can easily be placed on a small trailer, or even in some pickup trucks. You can take it with you to your holidays in a summer cottage, or even on a camping getaway.

Ease of installation and use:

A small 2 person wooden hot tub model requires significantly less effort to set up and use than a large one. Filling it up only requires a simple garden hose and it barely takes any time at all. All you need to run the massages and filters is a standard outlet. No difficult installation required. Just plug and play!

Minimal expense and maintenance:

As a smaller 2 person small, hot tub requires fewer materials and labor to manufacture, it naturally costs less as well. If you're looking for a budget option without sacrificing the functionality, or simply have no need for something that seats more than two people, then this option is optimal for you. Smaller tubs are also easier and faster to clean and maintain. A smaller amount of water means that heating up takes less time and requires less wood or electricity. Furthermore, if you choose to use chemicals to keep the water clean, you won't have to add as much or as often.
Main disadvantages of a hot tub for 2 persons:
Small seating capacity:

If you're planning to have multiple people over to enjoy the small 2 person small hot tub at the same time, then this option is probably not for you. The capacity of this model is two people and there definitely is no wiggle room in that. Therefore, if you're planning on having friends or family over for a quick hot tub centric social gathering, then a larger hot tub bis recommended.

Limited seating arrangements:

Seating capacity is not the only thing that's limited, as there isn't a large amount of room for different seating arrangements or twisting and turning. If you're looking for a tub where both of the users can fully lay down like on a king-sized bed, then a bigger hot tub would be required.
---
2 person wooden hot tub with fiberglass liner:
Fiberglass models are the most expensive of the three available options but come with the most benefits. These include insulation in the walls and bottom plates, as well as, a selection of massage systems, heaters, and colors. The fiberglass insert itself provides a long service life, easy cleaning, and maintenance. Higher prices compared to the alternatives. Lighter in weight compared to the fully wooden wood burning hot tub models provides a higher level of mobility.
---
Small wooden hot tub with polypropylene liner:
Similar to the fiberglass models, these come with an insert, however, offer wooden accessories as well. Whereas the fiberglass model offers rounded walls, benches, and edges, the polypropylene counterpart is a lot more geometrical with straight walls and simple shapes. Lighter in weight compared to the fully wooden models provides a higher level of mobility.
---
Completely natural 2 person wooden hot tub:
Fully wooden tubs offer a completely natural experience with no artificial built-in materials. If you're not looking for something with all the bells and whistles but still wish to enjoy the benefits of a warm relaxing hot tub this is the choice for you. Fully wooden models also boast lower prices compared to polypropylene or fiberglass models. These wooden hot tubs for 2 persons are a great addition to the outside wooden sauna as well. More about hot tubs, here.