Base preparation is something all soon-to-be hot tub owners should consider in advance. Not only does a sturdy base positively affect the longevity of the tub, but also the bathers' satisfaction. Here is a walk-through the factors which must be considered when planning a base for your hot tub:
Stability and evenness
Solid and level – those are the two most important requirements for a base. The base must be strong enough to support a full hot tub with bathers and must stand level enough for the water to be even. This does not mean that it can only be made from concrete. There are plenty of options to choose from that provide the same level of stability while looking splendid in your garden.
building a wooden hot tub base
Building a wooden hot tub base includes ensuring stability and evenness; selecting materials for the base; ensuring air circulation.
Materials
Some popular choices include gravel, paving units, tiles, wooden constructions (terraces). The choice really depends on the owner's preference. A nicely laid out base can improve the visual aesthetic even more. Here are some wonderful arrangements from our customers':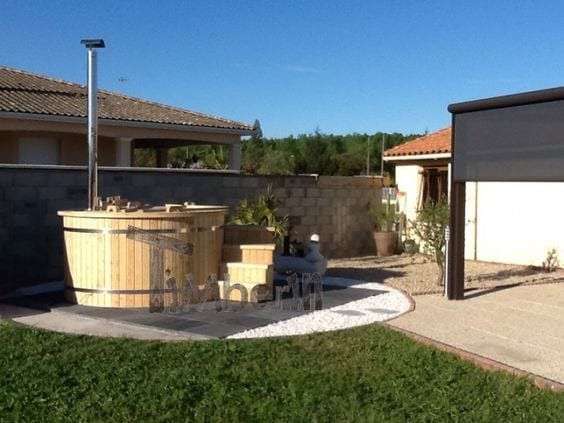 Air circulation
This is another key factor, especially when it comes to wooden hot tubs. When possible, it is best for the hot tub to be raised from the ground, so that air circulates freely under the bottom and moisture evaporates. Another thing to consider is the placement of the hot tub either in the shade or direct sunlight. When it comes to Polypropylene (PP) and Fiberglass tubs this does not make much of a difference, however, with wooden tubs this is something to consider. The shade, especially in a more humid climate, is perfect for algae and mold to form, therefore it is highly recommended to set up the base for a wooden hot tub in a sunnier spot.
Bottom insulation
If a hot tub does not have bottom insulation, yet is in a colder climate, a thicker base is something to consider. Keeping the hot tub raised higher from the ground will act as insulation. Another option is to place the hot tub on a sheet of polystyrene (when choosing this option, do not forget about ensuring proper air circulation).
---
Set up a wooden hot tub in the garden – the ideal spot?
A wooden hot tub in the garden needs a good spot. We examine requirements, effort and costs for the underground. Our spot as an idea and example for your own hot tub.
These examples, ideas, and general requirements do not only apply to an outdoor hot tub, but to all kinds of garden tubs such as outdoor hot tubs, hot tubs, whirlpools, inflatable whirlpools. They are often considered synonymous anyway.
If you are planning to purchase a wooden hot tub, the question of the best place in the garden quickly arises. Of course, it would be smart to keep these aspects in mind when planning the property and garden. But these are probably the fewest people who think directly about a wooden hot tub in the garden when building a house.
Ideal spot – ideas, examples, requirements
When we first started thinking about it, we naturally couldn't come up with a perfect spot. After all, we didn't want to simply set it up on a free surface, but rather integrate it harmoniously. So we used the Google image search, Pinterest and Instagram to get some creative ideas.
And made us aware of what the requirements for the perfect pitch actually are:
The requirements are manifold. On this place the outdoor hot tub:
blend harmoniously into the entire outdoor facilities and do not look like a coarse foreign body
be on a firm foundation
stand up straight
not necessarily be visible to everyone
not be in the way, but still be easily accessible
provide an easy start
have some distance from the house, e.g. because of splash water
Being able to draw smoke from the stove easily
Water supply must be possible
Water drainage must be possible
can stand permanently. With the size and weight, you don't even move the hot tub
Have a power connection available
Have space for the sand filter system
Then we quickly came to the decision that we did not want to place the bathing tub anywhere but dock it close to our garden terrace. During the planning of the terrace, we had left out a corner and planted some flowers and plants. This was nice and green, but we were not really satisfied with it. And therefore, it seemed to be the ideal place for our wood-burning hot tub in the garden.
Here in the background you can see quite well the "green corner":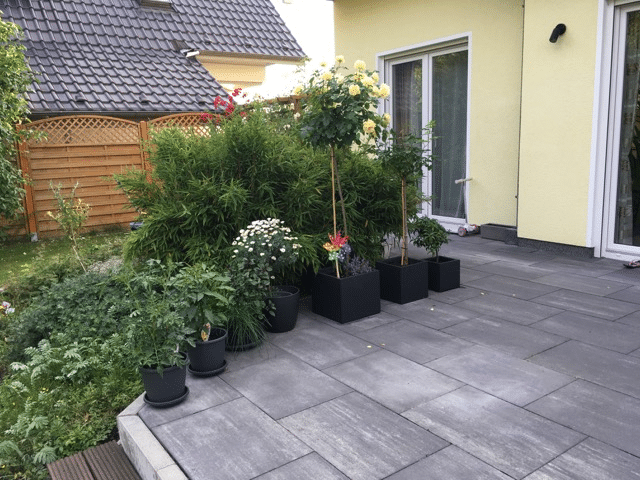 But to be able to put the barrel wooden hot tub there, we had a lot of work ahead of us.
We first had to remove all the plants and remove the topsoil.
Expenditure: 1 day of work + costs for removal of the soil (there were loosely 3 cubic meters of the earth) for almost 100 Euro.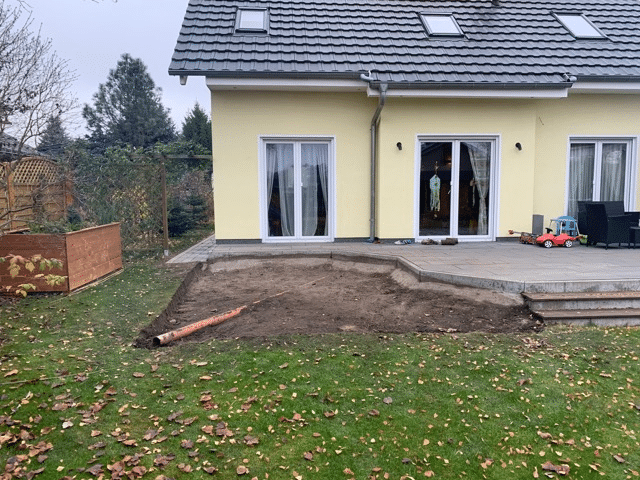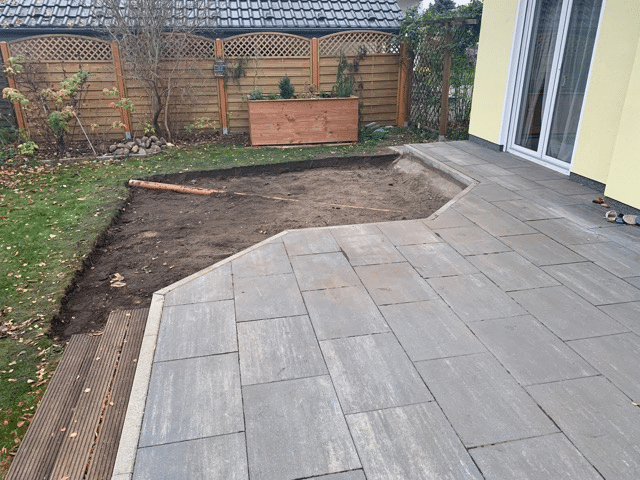 Then we put kerbs (lawn edge stones/lawn curbs) in concrete and filled the surface with gravel at ground level to be able to lay paving stones.
Cost: 1 day of work + 50 Euro for concrete curbs and screed concrete + 65 Euro for delivery of gravel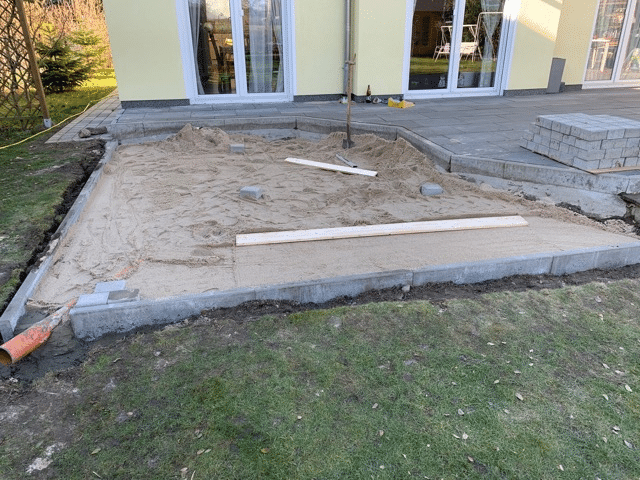 Afterward, we paved the whole area with stones. Due to the rough surface area of 4×4 meters, we need paving stones for 16 square meters. We still had stones left over from our earlier paving work on our terrace and only had to buy a few square meters of them. Depending on the type of stone you can calculate 8-12 Euros per square meter for quite simple stones.
Expenditure: 3 days work + 130-200 Euro for paving materials.
A wooden hot tub on the terrace
The actual spot was now ready and we could theoretically have placed the wooden hot tub there. But as we had a difference in height of about 40 cm between the actual terrace and the paving, as well as concrete support slopes for the terrace shelves, we needed further adjustments. The idea was that we wanted to cover this area with wood. We had to create a small wooden pathway that connects seamlessly to the stone terrace slabs and surrounds the hot tub. Since the terrace is made of stone and the outdoor hot tub is made of wood, this intermediate wooden area made of Bangkirai terrace boards should create a good transition.
However, the creation of such a wooden terrace area is not very easy. Furthermore, the required round cut-out around the outdoor hot tub, so that it is seamlessly connected, is quite complicated (at least for me as a layman).
Here for the first time, concrete pillars were built for the wooden terrace. This forms the base for the terrace boards.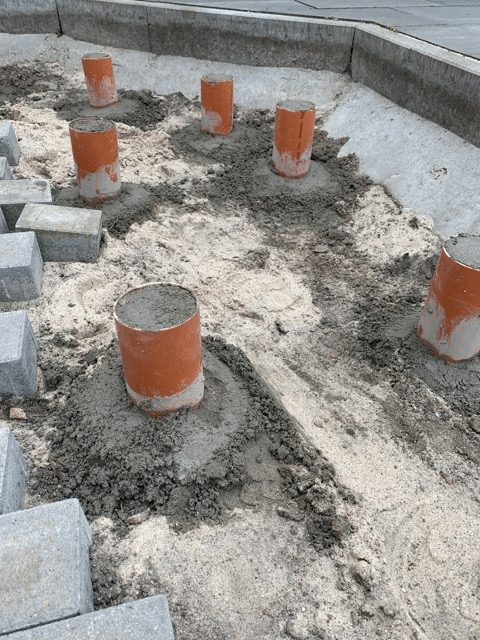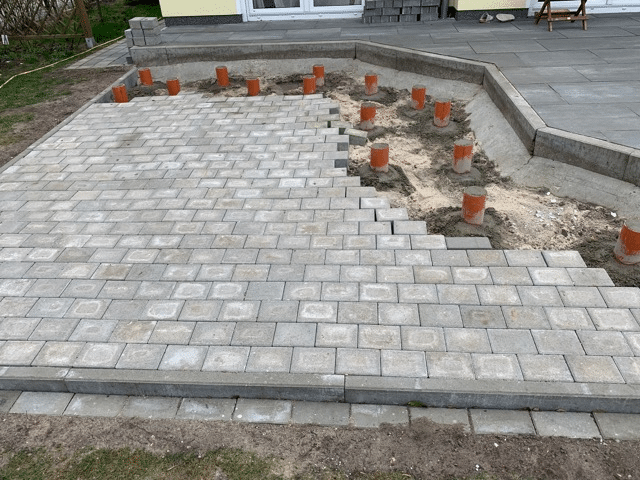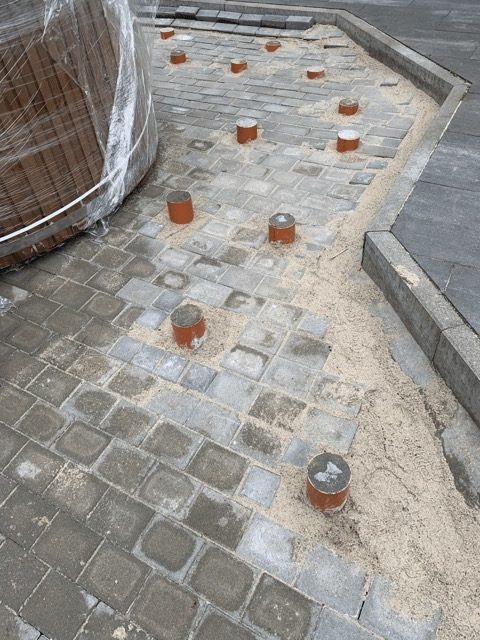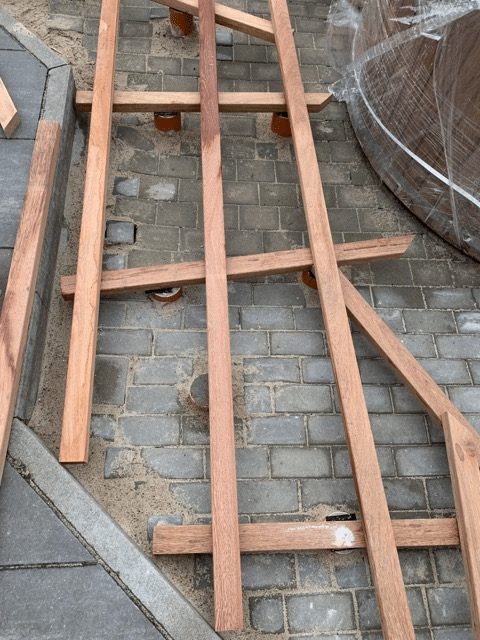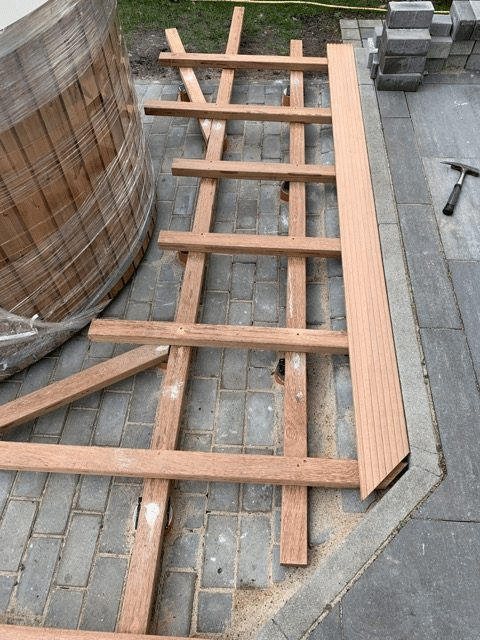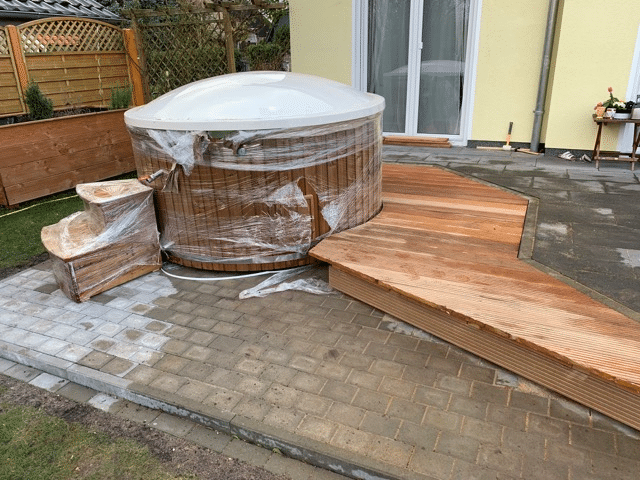 From one side it looks like we have let the outdoor hot tub into the terrace. For such an execution one should have a good idea of the wooden construction. Therefore, we left this to the professionals and hired a master carpenter who did the work for us. First of all, you should be aware that this can be quite expensive…
Costs for wooden terrace as border: approx. 1000 Euro.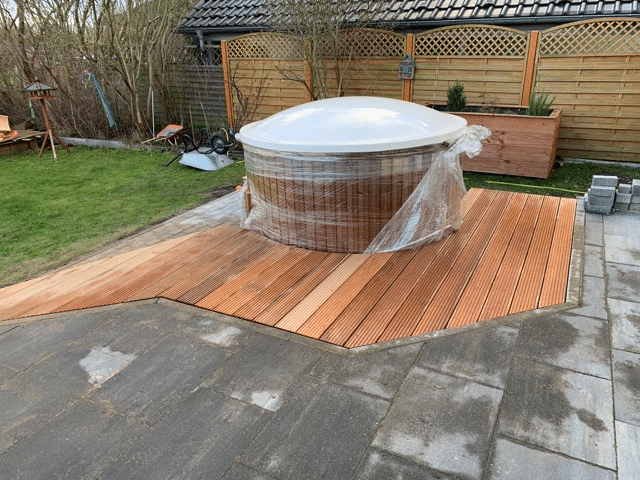 Since our hot tub is equipped with whirlpool elements, we still need electricity for the massage jets (we have both hydro (water) and air bubble system) as well as the underwater LED lighting and the sand filter system.
Expenditure: 0.5 days of work for underground laying of the power cable + cable for 25 Euro.
Conclusion: Spot for a outdoor hot tub in the garden
Due to the many different requirements, the perfect spot is not easy to find and often even more difficult to build. We spent several days of work and several hundred Euros only for building materials (concrete, stones, gravel, removal). As soon as you start with elaborate works like a wooden terrace, the costs quickly rise dramatically.
We could have let the hot tub into the terrasse completely, then instead of a real wooden outdoor hot tub, we would have only needed the tub, i.e. the interior made of fibreglass/plastic. Thus, before choosing and ordering a bathtub, one should already be very clear where one wants to place the bathtub afterwards.
But in the end, we are really happy with our choice of seat and the adjacent wooden terrace. The bathing tub is now a super eye-catcher in the garden and always provides for enthusiastic looks from visitors.
---