Wood Fired-Burning Heaters, Stoves for Hot Tubs for Sale. Shipping throughout Europe, USA, Canada, Australia!
Wood burning hot tub with external stove, Hinton Grange, Grove Lane, UK
Dear Albert,
We are over the moon with our new tub. It was delivered by the nicest delivery guys, it was easy to assemble and within a few hours it was hot enough to use. Already in just over 24 hours the kids have had great fun and the adults have enjoyed sitting under the stars. Another amazing attribute to these high quality tubs is that you can literally put them anywhere. Even the smell of burning wood wafting over adds to the overall experience. The price is amazing and we will no doubt be buying another for our holiday cottage business very soon. Thanks Albert and please make sure you praise your delivery guys too they represent your company perfectly. So efficient and polite.
Kind regards Angela Gent
2015-08-14T11:28:53+00:00
https://www.woodenhottubsale.co.uk/testimonials/wood-burning-hot-tub-with-polypropylene-liner-and-snorkel-heater-hinton-grange-grove-lane-uk/
These heaters perfectly fit to every wooden hot tub model. However there are many choices possible. Internal heaters are easy to install and it is common model. On the other hand, external heaters are mounted separately therefore a lot of space is saved. All types of heaters are sold with full connections, pipes and rain hats. We have stainless steel and marine aluminum heaters. For the additional cost, one can choose stainless steel mark 316 instead of 430. 316 stainless steel is resistant to chloride and sea water.
Snorkel or external wood burning heaters?
Wood fired heaters are specially produced for wooden hot tubs. Inside the heater, water circulates itself without any pump necessary. Hot water flows up and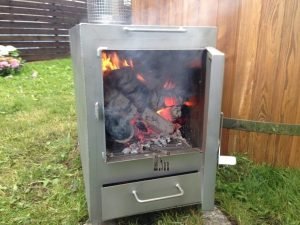 generates low pressure which lifts cold water from the bottom and therefore pump powered by electricity is not needed. The main advantage of having exterior heater is that it provides more space in the tub, while having an interior model, one can put fuel without getting outside the hot tub. Heater`s body and fire place together may be produced using stainless steel (various models) or marine aluminium. The frame and door are made of cast iron that gives a long life span. It must be noted that if there is a possibility of water getting frozen, water should be released from the oven. The heat which comes from fire is transferred to water thought complex oven`s double surface.
Installation of wood hot tub heaters
Wood fired heater is connected to the hot tub using connection pipes which come with the delivery package. This package combines of plastic pipes and flexible rubber hoses with presses on it for safe connection. 2 m length chimney and rain hat is also in the package. Ash shovel is also supplied together with the interior ovens.
Assembling procedure:
Oven should be standing on horizontal surface;
It should be standing ~15 cm lower than the hot tub in order to maintain the inclination of upper hose. This is necessary in order to provide full circulation process.
The opening of Ø60 mm should be made for installing a upper hose. The upswing from the bottom should be around 190 mm.
The same opening should be made in opposite side of hot tub for lower hose.
The upper and lower pipes should be connected with oven.
In winter all water should be released after using a hot tub. This should be done due to frost possibility. Water can get frozen and ice expands its volume therefore damaging the interior of oven. Attention: if sea or chloride water is used, it becomes necessary to rinse the oven with fresh water.
Wooden hot tubs are one of the hottest luxury items or commodities one can own
They provide an aesthetically pleasing look and qualify for an excellent feel. There are several kinds of hot tubs available in the market, plastic, stainless steel and wooden. However it is the wooden hot tubs that have taken the market by storm especially due the way they give a natural feel for a geyser or for purists who only want organic and natural.
Wood burning hot tubs are a type of innovative hot tub. They do not require electricity connections or natural gas connections for warming the water. Thus there is never an extra bill waiting for you there is only a requirement of getting wood which is easily available at any house wares store or can even be gotten from the woods if you live near one. The wooden burning fire gives the water a natural more sound warmth than any electrical warmer or natural gas burner does.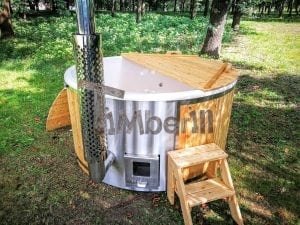 Wood burning hot tubs come in a variety of sizes with the ability to accommodate two, three, four, five, six, seven and up persons per tub. This variety of size depending on the number of persons decreases if it is normally for personal home use and increases if the wood burning hot tubs have to be installed in a spa or sauna. Usually spas and saunas contain all kinds of hot tubs, be it plastic, stainless steel, acrylic or wooden. And to have the facility of wooden hot tubs with wood burning capacity is usually a great attraction for the spa goers who believe in attaining natural geyser warmth to the hot tub experience.
Thus the water coming out the of the jets if a wood burning hot tub is used is more exemplified and better felt by the users than the electrically warmed or natural gas heated. Wood burning hot tubs are produced safe and the wood burning system can be inducted into any type of hot tub, plastic, acrylic, stainless steel or wood. The system is wood burning does not necessarily mean the tub has to be wooden too. There are always safety concerns with burning wood underneath other wood with people and water in it and thus the wood burning hot tub can be made of any material regardless of its wood burning heating system underneath or on the side of the tub.
Some people want the water to be heated by wood and not electrically as electrical heating usually goes steaming hot and wood burning hot tubs will burn the wood at a constant rate and thus be able to provide the steady warmth of water through the water jets. The ability to integrate a wood burning hot tub system in an old hot tub usually not made of wood itself is catching on and people are trying to save on not only electric and gas bills but acquiring the feel for water warmed via a natural process of wood burning.